Posted by Elena del Valle on November 14, 2022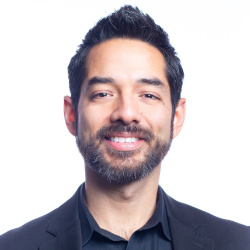 Roger Osorio, author, The Journey to Reinvention
Photo: Roger Osorio
A podcast interview with Roger Osorio, author, The Journey to Reinvention – How to Build a Life Aligned with Your Values, Passion, and Purpose, is available in the Podcast Section of Hispanic Marketing and Public Relations, HispanicMPR.com. During the podcast, he discusses career reinvention with Elena del Valle, host of the HispanicMPR.com podcast.
According to his bio Roger is a reinvention expert, and founder of The School of Reinvention, a community-based coaching platform that seeks to empower people to launch and succeed in personal and career reinvention.
Roger worked for a Fortune 500 company in marketing and sales. In 2008, after falling in love with a part-time job tutoring math, he quit his day job to reinvent his career. Since then, he earned a masters degree in psychology and became a middle and high school math teacher, international speaker, executive coach at a tech company, University of Pennsylvania and Sarah Lawrence College educator, entrepreneur, and author. Along his journey to reinvention, Roger's clients have included: Google, LVMH (Louis Vuitton Moet Hennessy), Citibank, The World Bank, IBM, and the Computer Electronics Show.
To listen to the interview, scroll down and click on the play button below. It is also possible to listen by looking for "Podcast" then select "HMPR Roger Osorio" and download the MP3 file to your audio player. You can also find it on the RSS feed. To download it, click on the arrow of the recording you wish to copy and save it to disk. The podcast will remain listed in the November 2022 section of the podcast archive.