Posted by Elena del Valle on July 25, 2022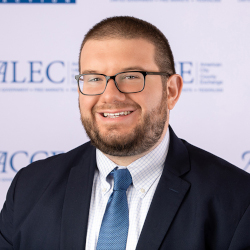 Thomas Savidge, research manager, Center for State Fiscal Reform at American Legislative Exchange Council
Photo, report: American Legislative Exchange Council
A podcast interview with Thomas Savidge, research manager, Center for State Fiscal Reform at American Legislative Exchange Council (ALEC), is available in the Podcast Section of Hispanic Marketing and Public Relations, HispanicMPR.com. During the podcast, he discusses unfunded public pension liabilities in the 50 States (see ALEC 2021 35-page report on state pension funds: Unaccountable and Unaffordable) with Elena del Valle, host of the HispanicMPR.com podcast.
Tom researches and writes on state tax and fiscal policy, applying knowledge learned in the classroom and working in the policy world.
To listen to the interview, scroll down and click on the play button below. It is also possible to listen by looking for "Podcast" then select "HMPR Thomas Savidge" and download the MP3 file to your audio player. You can also find it on the RSS feed. To download it, click on the arrow of the recording you wish to copy and save it to disk. The podcast will remain listed in the July 2022 section of the podcast archive.