Posted by Elena del Valle on October 27, 2021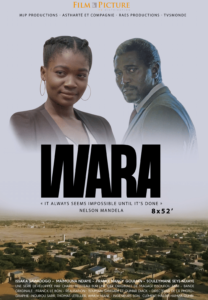 Wara poster
Photos: Mhz Choice
Wara, a 2020 eight part miniseries set in a future Senegal, recently became available on MhzChoice.com, an online streaming service. Starring Issaka Sawadogo as Moutari Wara, France Nancy Goulian as Aicha Diallo, Maimouna N'Diaye as Yasmin Diallo, Souleymane Seye Ndiaye as Ganka Barry the program, based on a story by Magagi Issoufou Sani, is in French with English subtitles.
Set in the "City of Tanasanga" the story explores university student and community activism to combat the pervasive corruption of elected officials. It shines a light on the lengths the politicians and their supporters go to in furtherance of their goals. Much revolves around Wara, a law professor, Miriam Shugger, another professor, their students and others in their circle, some forces for community good and others for personal gain. Despite a seemingly incomplete ending Wara is suspenseful and engaging. Goulian and Maimouna N'Diaye's performances stood out.
From Wara
The series was produced by M.J.P., Astharte & Compagnie, Raes Production, and TV5Monde (a French, Belgian and Swiss collaboration) with support from Organisation Internationale de la Francophonie, Agence Francaise de Developpment, and Centre National de la Cinematographie et de l'Image Animee among others listed in the series credits. A number of organizations in Senegal were listed in the end credits, including City of Saint Louis, Ministry of Interior, Ministry of Culture, Village Mbaye and University Gaston Berger.
Sawadogo, according to Imdb.com, is a Burkina Faso-born actor, dancer and musician fluent in French, English and Norwegian. Maimouna N'Diaye's other film credits, according to Imdb.com include Eye of the Storm and Les Trois Lascars; and per the same source Goulian's other film credit includes Cacao. Charli Beléteau is listed as the series creator on Imdb.com.