Posted by Elena del Valle on October 13, 2021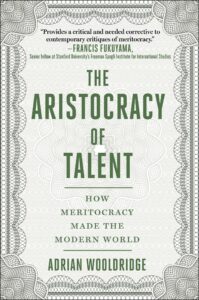 The Aristocracy of Talent
Cover: Skyhorse/Simon & Schuster
New talent was one of the secrets of success for ancient Venice, Italy and great universities. That is one of the conclusions drawn by Adrian Wooldridge after dedicating 482 pages to the exploration of the history of meritocracy in his most recent non fiction book titled The Aristocracy of Talent How Meritocracy Made the Modern World (Skyhorse/Simon & Schuster, $24.99). The hardcover book was published in July 2021.
Venice thrived as long as it was open to new arrivals, the author says in the book. Once it became a closed society, denying opportunities to new voices and talent it decayed and never recovered, he says. A similar situation is to be found at higher centers of learning, he points out, where elites rule and exclude most newcomers; as a result economies are stagnating and political unrest is growing internationally. He concludes that in order to avoid the decline suffered by Venice and Chinese domination Western society must embrace merit as a key to education, economic and social advancement.
Wooldridge, who according to his biography, earned a doctorate in history from Oxford University is the political editor and a columnist at The Economist. He is the author of 10 previous books.