Posted by Elena del Valle on September 1, 2021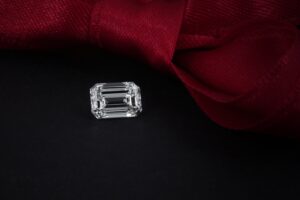 A lab grown 1.21 carat, D color, VVS2 Keystar Gems manufactured diamond
Photos: Keystar Gems
There may be good news for anyone in the market for discount lab grown diamonds. Wholesaler Keystar Gems has begun selling their products in the United States. The company buys lab diamond rough grown in China has it cut in Surat, India and sells it for one quarter less than the wholesale price of natural diamonds of similar cut, clarity and color, according to a company spokesperson. The company plans to attend a trade only wholesale event in Las Vegas, Nevada for the first time this year.
When asked about the company's primary target audience Aagna S. Ajmera, chief marketing officer, Keystar Gems, said by email via a New York publicist, "Ultimately Keystar Gems would love for everyone to own lab-cultivated diamonds, but as far as the company's direct clientele, Keystar Gems is B2B, selling within the trade to jewelry design ateliers, large retailers, distributors, dealers, and to other lab-grown manufacturers."
Aagna S. Ajmera, chief marketing officer, Keystar Gems
"On average it takes about 7-10 business days to go from rough to polish during the manufacturing process, which is very fast within the gem trade, and differentiates Keystar Gems from other lab grown manufacturers," Ajmera said when asked what differentiates Keystar Gems from other lab grown diamond sellers. "This is entirely due to the expertise of Maheshbhai Radadiya, the Founder of Keystar Gems, who still personally studies every new rough diamond, along with the handling team, which has been trained by him. Keystar Gems is also known for having exceptional cutting, polish and symmetry, another distinguishing factor."
"The colored diamonds are all custom orders," said Ajmera when asked about color diamonds. "For Keystar Gems, the majority of the demand is for white diamonds.
An additional color treatment is required for most desired colors. Blue diamonds, however, don't require a treatment. Colored diamonds need to be processed, so it isn't more difficult to make them per say, it just takes more time to make a colored diamond."
According to promotional materials provided by the company's public relations agency, Keystar Gems is producing over 10,000 carats of High-Pressure High-Temperature (HPHT) lab grown diamonds a month. The diamonds range from 0.03 to 10 carats in size and are available in a variety of shapes and clarities. The company manufactures white, pink, blue and yellow manmade diamonds.
Although natural diamonds can take millions to billions of years to form, an HPHT diamond can be grown in under a week, according to information the agency provided. A company representative explained that "this kind of quantity is seen with Chemical Vapour Deposition (CVD) diamonds, but has not been seen before with HPHT." The Surat-based company is owned by Radadiya, founder, and Shivang S. Rao, cofounder and director.