Posted by Elena del Valle on June 16, 2021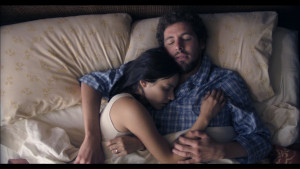 A scene of Caravan of Death
Photo: Mhz Choice
Beginning this month Caravan of Death (entitled Ecos del Desierto in the original Spanish release) a suspenseful, violent and dark four episode fiction mini-series based on the life of human rights lawyer Carmen Hertz in Spanish with English subtitles, should be available on Mhz Choice, an international streaming service. According to the program credits it was based on the court files of the Caravan of Death case well known in Chile. It recreates a brief period at the end of Hertz and her husband's life together as well as incidents from 1973 and the military coup that deposed Chile's president.
The series showcases the work of the lawyer and the tense political situation before and during the Augusto Pinochet era; as well as the human rights violations, rape and murders she accuses the military and the government of committing illegally. Each episode of the mini-series, which according to online source website ChileNovelas Wiki first aired in Chile in 2013, is approximately 50 minutes long. The English subtitles were provided by Mhz Choice. According to promotional materials this is the first Chilean series available on the streaming service.
The series was directed by Andres Wood and produced by Wood Producciones and Chilevision with a mix of actors and archival video from sources such as the Institute National de l'Audiovisual and Chile Films. Actresses, Aline Kuppenheim and Maria Gracia Omagna, portrayed Hertz at two stages of her life. The executive producers were Alejandra Garcia and Carolina Zuñiga and the producer was Alejandro Fernandez.