Posted by Elena del Valle on May 19, 2021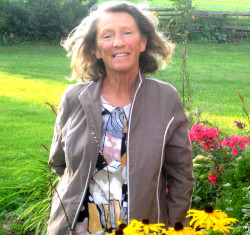 Elizabeth Lauder at Stanley Park
Photos: Abernathy & Smyth Publishing
The work of Elizabeth Cameron Lauder, a Canadian artist known for her oil on semi-precious stone and watercolors, is featured posthumously in two recently published softcover books: Elizabeth Lauder: Memoirs of a Plein Air Painter Volume One Watercolors (Abernathy & Smyth Publishing, $59.95) and Volume Two Oil on Semi-Precious Stone (Abernathy & Smyth Publishing, $69.95) edited by J.R. Boleyn, her life partner. Two additional volumes completing the series of four are scheduled to be published by year's end.
Volume One includes 125 color images and Volume Two includes 200 images. Most pages feature a single image of her art. Many of the photos were taken and selected for inclusion by the artist, according to Boleyn who responded to questions via email.
"What defines Elizabeth, and separates her from other artists in that regard, was her ability to incorporate the stone itself as part of the final painting," said Boleyn. "A prime example of that is the painting titled 'Renaissance Girl' (Volume One, page 117) where the wreath around the subjects head is the actual rubies embedded in the imperial jade stone. This made Elizabeth's work unique in all the world, and why it became so valuable. She was the first!"

Elizabeth Lauder Volume One
All of her rock paintings in Volume Two and watercolors in Volume One have been previously sold to private collectors in over eighty countries. The artist owned a studio in Quartzsite, Arizona a town known for its international gem and mineral shows.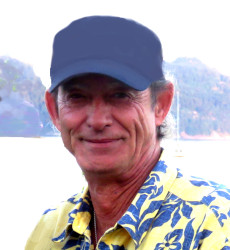 J.R. Boleyn, publisher, Abernathy & Smyth
"I have in my personal collection, which will be featured in her 'Volume Three' to be published by late summer, over 200 originals that will be for sale," said Boleyn. "Yes, they are all watercolors, over 200 signed originals ranging in size from 8 x 11 to 22 x 30 and sizes in between, priced at a minimum $550 for the smallest to $4,500 for the larger sizes."
According to promotional materials, she is a relative of film director James Cameron. Her work has been exhibited around the world and sold through Sotheby's Fine Art Auctions and Sotheby's Private Contemporary Artist's Sales in New York and London. Her art has been collected by patrons in over eighty countries around the world, according to a press release that also indicates Elizabeth's watercolors are currently under consideration for permanent exhibition in the National Gallery of Canada.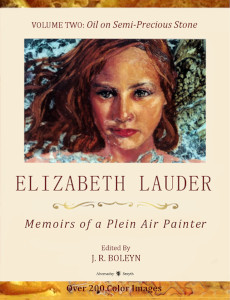 Elizabeth Lauder Volume Two​
The art was compiled by Boleyn, an American songwriter, author, and founder of Abernathy and Smyth. Born April 8, 1948, in Ontario, Elizabeth's first 18 years were spent growing up on a farm in the Caledon Hills where she was inspired by pastoral landscapes and abrupt and beautiful dramatic seasonal changes. Her formal education was completed in 1971 with an associate's degree in sculpture from the Ontario College of Art and Design. The following year Elizabeth moved to the west coast, trading chisels and bronze for brushes and palette.
Already distinguished for her watercolors of Vancouver's cherry blossoms, she spent the next seven years traveling throughout Mexico and painting southwest mining scenes. According to her website she was inspired by her travels to paint on massive slabs of semi-precious stone.