Posted by Elena del Valle on November 18, 2020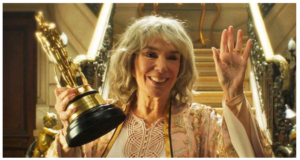 Graciela Borges is Mara in The Weasel's Tale (El Cuento de las Comadrejas)
Photo: Outsider Pictures
The Weasel's Tale (El cuento de las comadrejas), a new suspense film with touches of dark humor and romance, will open in United States theaters December 11, 2020. The unrated film is in Spanish with English subtitles. No video clip file was made available.
Four long-time friends sharing a stately home in Argentina find themselves the victims of an unscrupulous greedy couple seeking to con them out of their home permanently. A Spanish Argentina collaboration copyrighted 2019 the 129-minute film was directed and written by Juan José Campanella (The Secret in Their Eyes). It appears to be a remake of Los muchachos de antes no usaban arsénico, a 1976 film from Argentina by José A. Martínez Suárez.
The film was distributed by Latido in Spain and Outsider Pictures and Strand Releasing in the United States. The cast features Graciela Borges as Mara, Oscar Martínez as Norberto, Luis Brandoni as Pedro, Marcos Mundstock as Martin, Clara Lago Grau as Bárbara, and Nicolas Francella as Francisco.