Posted by Elena del Valle on August 24, 2020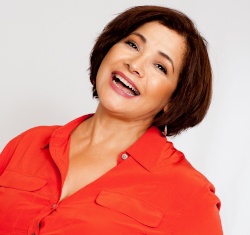 Bel Hernandez Castillo, CEO, Latin Heat Media

Naibe Reynoso, founder, Con Todo Press
Photos: Laura Sixtos, Naibe Reynoso
A podcast interview with Bel Hernandez Castillo, CEO, Latin Heat Media and Naibe Reynoso, founder, Con Todo Press is available in the Podcast Section of Hispanic Marketing and Public Relations, HispanicMPR.com. We discuss entrepreneurship among Latinas.
Bel has over twenty-five years in the entertainment industry, first as an actress then transitioning into entertainment media, as founder the first entertainment trade publication focused on Latinos in Hollywood, Latin Heat Entertainment. She also owns a production company and a streaming platform. As producer she co-created, executive produced, and hosted three TV talk shows; currently TheTrendTalk, a talk show which highlight Latinos, airs on the METV's network (KAZA in Los Angeles).
Naibe is a Mexican-American Multi-Emmy award-winning journalist based in Los Angeles California. She authored Be Bold, Be Brave: 11 Latinas who made U.S. History, a children's book. She has worked and contributed to various regional, national and international networks including KTLA, France 24, Univision Network, Reelz Channel, CNN en Español, the Biography Channel, Fox News Latino, Larry King's ORA TV, and filled in as a co-host on ABC's The View. She also co-created The TrendTalk, a one-hour talk show and co-founded the events company Latinafest LLC which has produced over a dozen successful events in the Los Angeles Area.
To listen to the interview, scroll down and click on the play button below or locate the "Podcast" section on the right hand side, then choose "HMPR Bel Hernandez, Naibe Reynoso" or download the MP3 file to your iPod or MP3 player to listen on the go, in your car or at home from the RSS feed. Some software will not allow flash, which may be necessary for the podcast player. If that is your case, you will need to download the file to play it. To download it, click on the arrow of the recording you wish to copy and save it to disk. The podcast will remain listed in the August 2020 section of the podcast archive.