Posted by Elena del Valle on June 22, 2020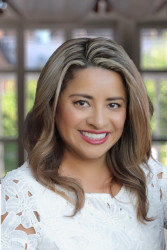 Marleny Gomez, realtor, HomeSmart
Photo: HomeSmart Elite Group
A podcast interview with Marleny Gomez, realtor, HomeSmart, during which she shares her thoughts about real estate in Arizona post pandemic is available in the Podcast Section of Hispanic Marketing and Public Relations, HispanicMPR.com.
According to her bio Marleny, a United States Marine Corps veteran, is on a mission to help families build and grow their wealth through home ownership. She has a background in organizational communication, leadership, project management and strategic planning. She is membership director for the Arizona Women's Council of Realtors and membership director of the National Association of Hispanic Real Estate Professionals for the Greater Phoenix area.
She received the 2020 Top 40 under 40 in the West and South East Realtors of the Valley Award, 2020 Top 100 Latino Realtors in the West award from the National Association of Hispanic Real Estate Professionals, and is among the top 5 percent in HomeSmart realtors nationwide in 2020. Marleny is a servant leader who shares her knowledge by volunteering her time and leading as the local vice president of the board of WeServ West Valley, the local real estate association.
To listen to the interview, scroll down and click on the play button below or locate the "Podcast" section on the right hand side, then choose "HMPR Marleny Gomez" or download the MP3 file to your iPod or MP3 player to listen on the go, in your car or at home from the RSS feed. Some software will not allow flash, which may be necessary for the podcast player. If that is your case, you will need to download the file to play it. To download it, click on the arrow of the recording you wish to copy and save it to disk. The podcast will remain listed in the June 2020 section of the podcast archive.