Posted by Elena del Valle on January 30, 2020
Ordinary Girls
Photos: Maria Esquinca
In Ordinary Girls A Memoir (Algonquin Books of Chapel Hill, $26.95), Jaquira Diaz describes the struggles she suffered growing up in a mixed race family first in Puerto Rico and then Florida. The 321-page hardcover non fiction book was published in 2019. Before finding success as a writer the neglected daughter of a drug addicted schizophrenic mother and absent father was a self described juvenile delinquent who was repeatedly arrested, and a drug abusing high school dropout.
Her fluid writing and storytelling belie dark gritty memories of maternal child abuse, deep sibling rivalry with her older brother, rape (references to violence remain off screen), suicidal tendencies and rage. Spanish words are peppered liberally as she paints a vivid image of her life and her childhood friends.
The book is divided into four main sections: Made Patria, Monstruo, Familia and Regresando. It includes bits about the history of the island and the failed efforts of some Puerto Ricans for independence from the United States.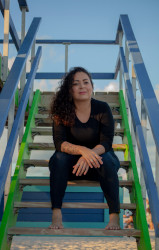 Jaquira Diaz, author, Ordinary Girls
Questions submitted twice by email to her publishing company, by email and via Twitter to the author received no reply by the publication date for this article. Diaz received two Pushcart Prizes, an Elizabeth George Foundation grant, and fellowships from the MacDowell Colony, the Kenyon Review and the Wisconsin Institute for Creative Writing.
---
Click to buy Ordinary Girls
---