Posted by Elena del Valle on January 6, 2020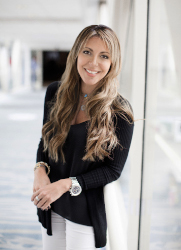 Gaby Lechin, senior vice president, Global Results Communications
Photo: Global Results Communications
A podcast interview with Gaby Lechin, senior vice president, Global Results Communications, is available in the Podcast Section of Hispanic Marketing and Public Relations, HispanicMPR.com. During the podcast, she discusses public relations trends and predictions with Elena del Valle, host of the HispanicMPR.com podcast.
Gabriela's communications career spans 18 years and includes extensive and global experience in the tech, cybersecurity, intelligence, transportation, government, and sports industries as well as global affairs, international relations and crisis management. A United States Navy Reserve Officer, Gaby holds a bachelor's degree in communications and a master's degree in national security and international relations.
To listen to the interview, scroll down and click on the play button below or locate the "Podcast" section on the right hand side, then choose "HMPR Gaby Lechin" or download the MP3 file to your iPod or MP3 player to listen on the go, in your car or at home from the RSS feed. Some software will not allow flash, which may be necessary for the podcast player. If that is your case, you will need to download the file to play it. To download it, click on the arrow of the recording you wish to copy and save it to disk. The podcast will remain listed in the January 2020 section of the podcast archive.