Posted by Elena del Valle on August 26, 2019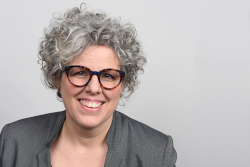 Rana Adib, executive secretary, Ren21
Photo: Ren21
A podcast interview with Rana Adib, executive secretary, Ren21 is available in the Podcast Section of Hispanic Marketing and Public Relations, HispanicMPR.com. During the podcast, she discusses sustainable energy with Elena del Valle, host of the HispanicMPR.com podcast.
Previously, Rana was Ren21's research coordinator developing the international expert community and leading the Ren21 Renewables Global Status Report series to become an international reference. Prior to Ren21 Rana worked in private industry and applied research in the areas of renewable energy, energy access, and waste management. She has over 20 years of experience in the energy sector.
To listen to the interview, scroll down until you see "Podcast" on the right hand side, then select "HMPR Rana Adib" and click on the play button below or download the MP3 file to your iPod or MP3 player to listen on the go, in your car or at home from the RSS feed. Some software will not allow flash, which may be necessary for the play button and podcast player. If that is your case, you will need to download the file to play it. To download it, click on the arrow of the recording you wish to copy and save it to disk. The podcast will remain listed in the August 2019 section of the podcast archive.