Posted by Elena del Valle on June 24, 2019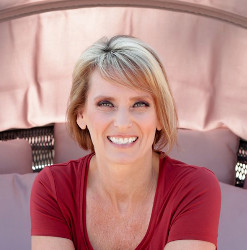 Jennifer Marcenelle, CEO, Burn Bright Today
Photo: Jennifer Marcenelle
A podcast interview with holistic nurse Jennifer Marcenelle, CEO, Burn Bright Today is available in the Podcast Section of Hispanic Marketing and Public Relations, HispanicMPR.com. During the podcast, she discusses gemstone therapy to combat burnout with Elena del Valle, host of the HispanicMPR.com podcast.
She the founder Burn Bright Today. Jennifer, a Board-Certified holistic nurse with over 30 years of experience in the medical industry, also has the following M.B.A., B.S.N., R.N., H.B.C.-H.N. credentials to her name. She is a certified Gemstone and Diamond Therapy Associate Practitioner. When she was 44, she had a health crisis and near suicide from burnout. Following those experiences she has dedicated her career to helping people move from Burning Out to Burning Bright.
To listen to the interview, scroll down until you see "Podcast" on the right hand side, then select "HMPR Jennifer Marcenelle" and click on the play button below or download the MP3 file to your iPod or MP3 player to listen on the go, in your car or at home from the RSS feed. Some software will not allow flash, which may be necessary for the play button and podcast player. If that is your case, you will need to download the file to play it. To download it, click on the arrow of the recording you wish to copy and save it to disk. The podcast will remain listed in the June 2019 section of the podcast archive.