Posted by Elena del Valle on May 8, 2019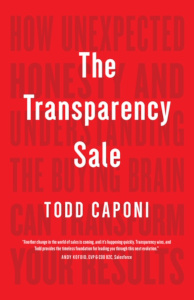 The Transparency Sale
Photos: Todd Caponi
Buyers want to know what the flaws are in a product. So much so that they favor bad reviews over good ones, according to Todd Caponi. He cares about sales methodology, learning theory and decision science. He is convinced that the key to sales success is transparency. In his first book, The Transparency Sale (Ideapress Publishing, $24.95) published last year, he seeks "to arm the modern seller with the knowledge, ideas, tools and actionable techniques to ready themselves for the future of sales; radical transparency."
"The short answer is eighteen months, however, it's not that simple," Caponi said by email via his publicist when asked how many months or years the book required. "I first wrote about the idea for a publication back in May of 2017, and it went viral. The concept definitely resonated, so that signaled the beginning of the process. When you decide to write a book, the first step should always be to write a proposal, even if you're intention is the self publish. It helps you vet out the likelihood of a successful book, and lays out your plan. I completed the proposal in November of 2017. The contract with my publisher, Ideapress, was signed in February of 2018, which kicked off the full-time writing process. The book officially launched in November of 2018."
When asked whether is was his first book and what prompted him to write a new one book in an already crowded field he replied, "Yes, it is my first book, and yes, there are so many sales books out there. As a student of those books combined with years of experience as a seller and leader, I recognized a non-obvious evolution taking place in the world of sales. The proliferation of ratings, reviews and the accessibility of peer feedback is changing the way we buy. Beginning with Amazon's launch in 1995, the idea of providing both positive and negative peer provided reviews appeared to help buyers predict what their experience will be following a purchase. In the twenty-four years since, reviews and feedback have permeated every meaningful purchase we make, from the products we buy, the experiences we select (restaurants, hotels, even Uber rides) and the apps we download. Buyers have come to rely on reviews and feedback, seeking reviews in 95 percent of their substantive purchases.
And, those reviews and feedback are no longer confined to just to B2C purchases. They are now inflating their way into the world of B2B, where a simple Google search allows buyers to easily review peer provided feedback on products through companies like G2Crowd, TrustRadius, and many others. Buyers can also peek inside the culture of the companies they're considering making a purchase from through websites like Glassdoor.
Sellers have always been taught to sell perfection, that their product or service is perfect for the client. However due to this evolution, you can no longer hide your flaws and expect to get away with it. It must change the way we position and sell our products or services to build the trust necessary to end in a long-term successful outcome."
Todd Caponi, author, The Transparency Sale
When asked about the title of the book he replied, "The Transparency Sale is about giving buyers all of the information their brain requires to feel confident in making a buying decision. It starts with a better understanding of our buying brain in how we make decisions as consumers. Beyond reviews, building a better understanding of how decision making really works is key to improving your ability to sell anything to anyone. It begins with transparency, in that leading with your product's flaws, with authenticity and honesty, sells better than positioning perfection."
The primary target audience for the book? "The concepts of this book, all the way down to the way we position, present and negotiate, are immediately applicable and actionable to anyone who's role requires them to influence other people to do something different tomorrow than they are doing today. That is primary sales professionals, but the feedback from cross-functional executives, recruiters, realtors, financial planners and marketers has been amazing."
When asked about the controversy surrounding fake reviews and review sites that sell ads he replied, "The push for sellers to encourage, or even pay for fake reviews is ultimately doing themselves a disservice. It may sound counter intuitive, but negative reviews sell better than positive ones: As mentioned above, 95 percent of consumers read reviews before making an unfamiliar purchase of substance, and that number is growing; 82 percent of consumers seek out negative reviews, and that number is growing as well, which leads to the fundamental statistic driving the need to change. Purchase likelihood peaks when a product whose reviews are in the 4.2 to 4.5 star range. A 4.2 sells better than a product with a perfect five-star rating!
Sellers that cram as many 5-star reviews are actually eroding the trust they're buyers have in them. Buyers are smart. They seek out the negative reviews, which actually HELP the buyer make a purchase. It happens with reviews in B2C, but also when we, as sellers, present our solutions as perfect. We're driving buyers to find the flaws themselves. Own the conversation, lead with the flaws, build trust, shorten sales cycles, win more often.
In other words, in this non-obvious evolution happening in the world of sales, not only is leading with your solution's flaws a requirement given the proliferation of reviews and feedback on everything we do, buy and experience, as it turns out (backed by brain science), it is also the fastest path to lasting trust, so regardless of reviews, it's the right thing to do, anyway, having magical impacts on your results."
The 193-page hardcover book is divided into five sections and 14 chapters. The author is keynote speaker, workshop leader and trainer as well as principal and founder of Sales Melon LLC.
---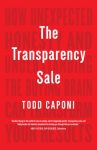 Click to buy The Transparency Sale
---