Posted by Elena del Valle on April 22, 2019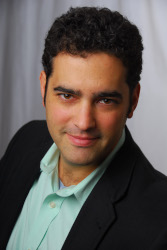 Jeff Kreisler, co-author, Dollars And Sense
Photo: Betsy Bell
A podcast interview with Jeff Kreisler, co-author, Dollars And Sense (see Authors explore behavioral economics issues) is available in the Podcast Section of Hispanic Marketing and Public Relations, HispanicMPR.com. During the podcast, he discusses behavioral economics with Elena del Valle, host of the HispanicMPR.com podcast.
Kreisler's bio describes him as "just a typical Princeton educated lawyer turned award-winning comedian, best-selling author and champion for behavioral economics." His second book is Dollars And Sense: How We Misthink Money and How To Spend Smarter co-authored with Dan Ariely. He tries to use behavioral science, practical experience and humor to understand, explain and change the world.
Kreisler is editor-in-chief of PeopleScience.com. He won the Bill Hicks Spirit Award for Thought Provoking Comedy, writes for TV, politicians and chief executive officers.
To listen to the interview, scroll down until you see "Podcast" on the right hand side, then select "HMPR Jeff Kreisler" and click on the play button below or download the MP3 file to your iPod or MP3 player to listen on the go, in your car or at home from the RSS feed. Some software will not allow flash, which may be necessary for the play button and podcast player. If that is your case, you will need to download the file to play it. To download it, click on the arrow of the recording you wish to copy and save it to disk. The podcast will remain listed in the April 2019 section of the podcast archive.