Posted by Elena del Valle on January 9, 2019
Knockout Presentations
Photo: Diane DiResta
Diane DiResta, chief executive officer, DiResta Communications, Inc., has dedicated her career to sales training and communications consulting. She coaches leaders on communications and public speaking who wish to gain business influence and impact. The third edition of her first book Knockout Presentations How to Deliver Your Message with Power, Punch and Pizzazz (Morgan James Publishing, $19.95) was published recently.
The 268-page softcover title has 10 chapters and an appendix of resources. She discusses issues such as myths, mistakes, nervousness, listening, presentation and persuasion skills, visual aids, setting the stage and dealing with difficult people. The third edition features new links, resources, and references representing about three percent of the book's total content. 
The target audience? "Business professionals," she replied by email. "It has a wide breadth and has been read from the college campus to the C Suite. There are college professors who use it in their public speaking classes. It's also the perfect book for sales teams as so many sales professionals give presentations. A professional speaker said Knockout Presentations helped her to write her keynote speech. The book has valuable tips and exercises for the novice to the seasoned speaker. Another professional speaker was given the book as a gift and thought she wouldn't learn anything. But she was surprised that she gained some new tips even though she was an experienced speaker."
"It took me 15 months to write it while working in my business," she replied when asked about the book project duration. "It took a bit longer to publish. A traditional publisher can take up to 18 months to publish a finished manuscript."
Regarding the book title and cover art she said, "The boxing glove is a visual for the title and a metaphor for giving a knockout presentation. It's not a sports book but I did work with clients from the NBA, WNBA and USGA."
When asked how she will measure success she replied, "Success is measured in two ways: sales and impact. Sales can be measured by the publisher. Impact comes from the many testimonials saying how it changed people's lives."
When asked: Many executives underestimate the value and effort required to be a good public speaker. What is the strongest financial argument you make to prove them wrong? she replied, "People who have good presentation skills have greater success in getting the job, getting promoted, making a sale, and making more money. Professors from Duke University, Fuqua School of Business studied voices of CEOs during investor earnings calls. They discovered that the CEOs with a deeper voice earned $187,000 more in pay and led companies with $440 million more in assets.
A CEO from a pharma company was able to convince the executive committee to fund the building of a $300 million facility with no guarantee of success. He was awarded the money and the initial investment yielded a 1 billion dollar profit. Public speaking is a soft skill that has a hard bottom line result."
---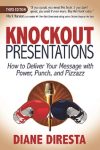 Click to buy Knockout Presentations
---