Posted by Elena del Valle on November 7, 2018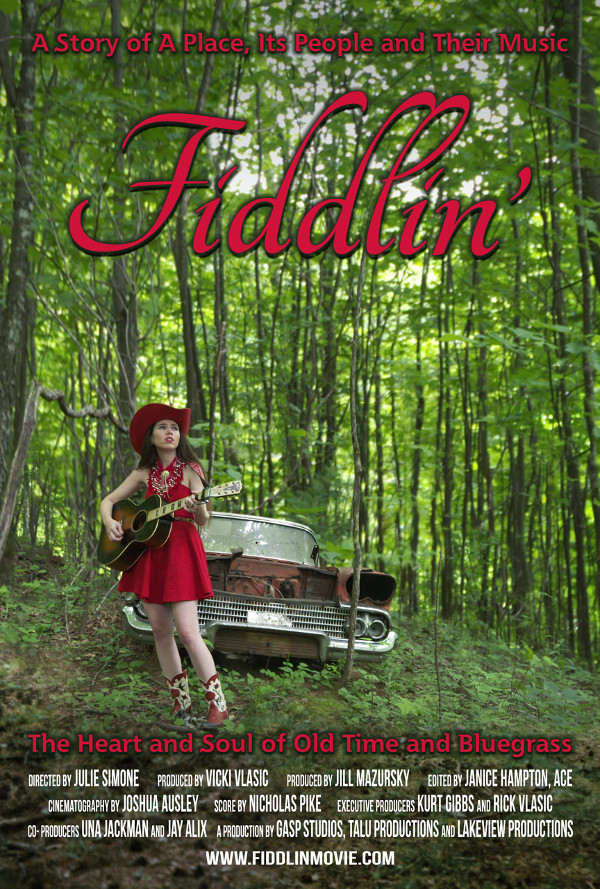 Fiddlin' poster
Video: Fiddlin Films, Fort Lauderdale Int'l Film Festival (FLiFF)
Photos: Fiddlin Films
Sisters Julie Simone and Vicki Vlasic, natives of the Appalachian Mountains, returned home to film during the 80th Anniversary of the World's Oldest and Largest Fiddler's Convention, the first filmmakers permitted to do so in the history of the event. The result is Fiddlin', an uplifting showcase of old time and bluegrass music and some of its musicians. The 96-minute film required two and a half years to make. It will premier in Florida at 6 p.m. November 14, 2018 at Savor Cinema Lauderdale as part of the Fort Lauderdale International Film Festival. Scroll down to watch a trailer.
"We wanted to shine a positive light on the true beauty of this area with it's traditions, culture, music and authentic people," said Simone, director, Fiddlin', in an email about the making of the documentary. "Because we were a small crew, we threw cameras at our nieces and nephews, my mom cooked for everyone and my dad set up camp for us. This was a passion project and we all came together to make Fiddlin' happen."
They filmed with a budget below $500,000 in Galax, Virginia and other small towns in Southwest Virginia as well as in the Nashville, Tennessee area. Funding sources included a Kickstarter campaign, a grant from the Rogovy Foundation, donations from friends and family and the sisters.
"We recruited our family to help work on the project as well as hiring a DP and Audio Recordist from North Carolina," said Vlasic, producer of the film, by email. "Our kids were holding booms, lights, carrying equipment and filming on additional cameras. Our parents cooked for the entire crew. Julie and I have worn many hats as we navigated the process of getting our film made.
Julie and I grew up in this Appalachian region and spent our summers attending the Old Fiddler's Convention in the neighboring town of Galax. After living in major cities for many years, Julie realized that this cultural event that we had always taken for granted was worthy of sharing with a larger audience. We had also started noticing that in recent years, there had been an enormous change in the demographics of the festival-young kids were now playing the traditional music in droves. In our youth, the musicians were only older people. Even more inspiring was seeing that the young people were jamming and hanging out with their elders and carried instruments instead of smartphones."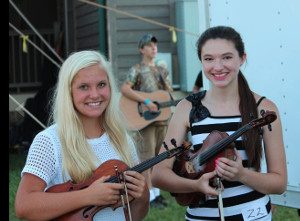 Musicians Ivy Phillips and Annabelle Watts
When asked to describe the music Vlasic said, "Old Time music was the music played in these mountains when the first settlers came from England, Ireland, Wales and Germany and began playing with the African slaves who introduced the banjo to our country. The combination of their music became known as Old Time music. In 1947, Bill Monroe and the Bluegrass Boys (so named as they came from the state of Kentucky) began to take breaks on individual instruments and to improvise and try to outdo the player before them. This was the birth of Bluegrass Music. Monroe's brother started using picks on his fingers to play the banjo which also differentiated the sound from Old Time. Many consider Bluegrass to be a 'fancier' style of music with some licks borrowed from blues and jazz music. Bluegrass later evolved into rock and roll when Elvis Presley recorded Bill Monroe's 'Blue Moon of Kentucky' as his first record. Country music was also born out of much of this Mountain music." 
Simone grew up on a farm in the Blue Ridge Mountains of Virginia. Prior to making the independent film she enrolled in a gorilla style film making class where she wrote, directed and acted in multiple short films. After motherhood and divorce, she turned her attention to the camera. On a trip to Cannes, Julie directed, filmed, and appeared as herself in Cannes Without a Plan, a comedic reality and television pilot about divorce and being a single mom.
Fiddlin' had its world premiere in March 2018 at San Louis Obispo, California, where it won the Audience Award. It has won multiple awards to date.  The Florida screening will be the final one this year. Next year, the producers expect to participate in more screenings and announce a release date.