Posted by Elena del Valle on October 31, 2018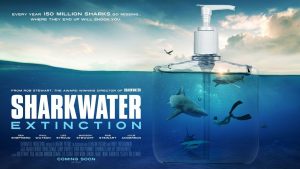 Sharkwater Extinction poster – click to enlarge
Video, photo: Courtesy of the Fort Lauderdale Int'l Film Festival (FLiFF)
Filmmaker Rob Stewart shines a light on the killing of sharks across borders in his third, and final, film Sharkwater Extinction. According to the film, worldwide between 100 and 150 million sharks, including endangered species and babies, are slaughtered for their flesh and fins every year, although only about half of them are reported. The Florida premier of the film will be at the Fort Lauderdale Int'l Film Festival (FLiFF) at 8 p.m. Saturday, November 17, 2018 at Bailey Hall, 3501 Davie Road, Davie, Florida (on the Broward College campus). Scroll down to watch a trailer.
In the documentary Stewart and other shark advocates travel to the often violent underworld of the pirate fishing trade in Florida and California as well as West Africa, Spain, Panama, Costa Rica and France. While in Florida they purchase various products at a grocery store and take them to Florida International University for testing. The scientists discover shark DNA in a number of them, including food, health and beauty products, fertilizer and pet food. In addition to beautiful underwater filmography with sharks the film features interviews with shark advocates, experts and locals as well as shaky undercover video.
In his first film, Sharkwater, Stewart brought attention to shark finning for use in shark fin soup. According to promotional materials, his multi award-winning film changed laws and public policy worldwide, and launched hundreds of conservation groups; more than 90 countries have banned shark finning or the trade of shark products.
Despite that unscrupulous fishermen fish sharks and equally unscrupulous buyers purchase them to make soups and much more so that, according to Stewart, they are still being fished to extinction. Stewart perished in a diving accident in the Florida Keys in January 2017 during the making of Sharkwater Extinction.