Posted by Elena del Valle on September 11, 2018
Alex Vorobieff, author, Transform Your Company
Photo: Alex Vorbieff Company
A podcast interview with Alex Vorobieff, author, Transform Your Company is available in the Podcast Section of Hispanic Marketing & Public Relations, HispanicMPR.com. During the podcast, he discusses how to get your company's momentum going again with Elena del Valle, host of the HispanicMPR.com podcast.
Alex is chief executive officer of Alex Vorbieff Company, a financial clean-up firm since 2003. He has counseled, coached and served as a clean-up chief financial officer and president of telecommunications, aviation and aerospace, hospitality, healthcare, and outsource staffing companies. He has lead successful turnarounds in a little as three months.
Transform Your Company: Escape Frustration, Align Your Business, and Get Your Life Back was published in 2017. He is publisher of the semi-annual Confident ROi magazine (Spring 2018) and weekly Confident ROi radio show.
To listen to the interview, scroll down until you see "Podcast" on the right hand side, then select "HMPR Alex Vorobieff" and click on the play button below or download the MP3 file to your iPod or MP3 player to listen on the go, in your car or at home from the RSS feed. Some software will not allow flash, which may be necessary for the play button and podcast player. If that is your case, you will need to download the file to play it. To download it, click on the arrow of the recording you wish to copy and save it to disk. The podcast will remain listed in the September 2018 section of the podcast archive.
---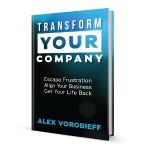 Click to buy Transform Your Company

---