Posted by Elena del Valle on August 23, 2018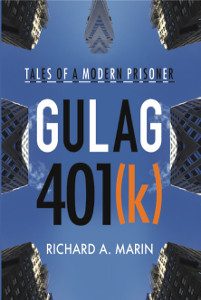 Gulag 401K
Photos: Richard A. Marin
For 20 years Richard A. Marin (see Podcast with Richard Marin, CEO, Low Emissions Resources Corporation, on how retirement is not for wimps) gathered personal stories. In the last six months of 2017 he wrote more. Over a three month period he dedicated his efforts into making the stories into Tales of a Modern Prisoner Gulag 401K (Lulu Publishing Services, $20), a 220-page softcover book. His intended audience was general although he felt the stories would appeal most to Baby Boomers.
When asked by email what motivated him to write the stories he replied, "I am a student of the retirement topic and hence the overall subject matter, but mostly I am a storyteller who finds the topic of retirement to be a compelling human phase that is rich in social, psychological and economic reality with which everyone can relate."
When asked what he meant when he said in the book that it's not possible to build high enough walls he replied, "I mean that the retirement or pension crisis is so globally and demographically pervasive that you cannot insulate yourself from it. It is a problem that we as a species must face in the next 30 years. It will affect us all, regardless of how wealthy we are or where we live. We will all need to deal with the humanity of the issue."
Richard Marin, author, Gulag 401K
As to in what ways he has marketed the book he said, "I hired a top-class publicist in Lavidge and I promoted it via Kirkus Review. The two have reached out to both professional and general populations that have a broad interest in the topic."
Marin is a 42-year finance, real estate, and venture capital industry executive. He also is involved in managing private equity investments, consulting on major commercial real estate and attractions projects, and the retirement field. The book is divided into seven sections and 23 chapters.
---
Click to buy Gulag 401(k)
---