Posted by Elena del Valle on August 2, 2018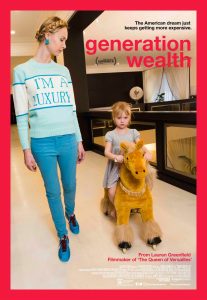 Theatrical one-sheet for Generation Wealth – click to enlarge
Photo, video: Lauren Greenfield, Amazon Studios
After 25 years as a photographer and filmmaker Lauren Greenfield became convinced that there was a theme to much of what she had observed. She felt a culture of wealth bound many of the images. She mounted a photographic exhibit of her work, published a book and released Generation Wealth, a 106-minute introspective film released via Amazon Studios. Scroll down to watch the film trailer.
The director and her family appear prominently in the film. She interviews them as well as people she knew in her high school years and the subjects of previous films and photography projects.
Questions about the film submitted via email to a representative remain unanswered as of this writing. The film was written by Greenfield who was also a producer. Frank Evers and Wallis Annenberg were also producers. Theater locations and additional information are available on the film website, generationwealthmovie.com
Greenfield is an Emmy-award-winning photographer, filmmaker, and chronicler of youth culture, gender, and consumerism. Other films by Greenfield include Queen of Versailles and Thin. The film was supported by a grant from the Sundance Institute Documentary Film Program with support from JustFilms and Ford Foundation Cinereach Project at Sundance Institute.