Posted by Elena del Valle on July 12, 2018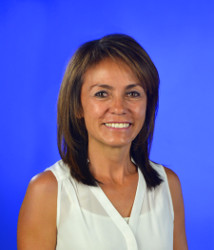 Monica Escaleras, Ph.D., director, FAU BEPI
Photo: College of Business at Florida Atlantic University
Researchers at Florida Atlantic University (FAU) believe Hispanic consumer confidence stalled in the second quarter of 2018 compared to the first quarter of the year. They drew their conclusions from a new national consumer sentiment index conducted by the Florida Atlantic University Business and Economics Polling Initiative (FAU BEPI) in FAU's College of Business. The conclusions were derived from a recorded survey online and by landline of 850 Hispanics 18 years or older.
"Hispanics are less optimistic of their financial situation and the short-term economic outlook of the country," said Monica Escaleras, Ph.D., director, FAU BEPI. "They're concerned about what they perceive as a rising cost of living, gas prices and interest rates. All of this leads Hispanics to be less eager to consume more."
The second quarter Hispanic Consumer Sentiment Index (HCSI) dropped from 98.9 in the first quarter to an 86.4 in the second quarter, according to the 11-page report titled Hispanics Consumer Confidence Stall in Second Quarter of 2018 Cost of Living on the Rise and Less Likelihood to Buy a House or Car. Information provided by the university indicates that the HCSI continues to trail the general population score of 98.2 as published by the University of Michigan in June 2018.
When asked by email how researchers identify respondents Escaleras said, "Respondents self-identify as Hispanics. Specifically, this is the question that we ask: Are you of Hispanic, Latino or Spanish origin? If the answer is yes, then they take the survey. If the answer is no, then the survey ends."
The poll, available to respondents in English and Spanish, was funded by the Dean's Office in College of Business at Florida Atlantic University, according Escaleras, who declined to disclose the budget for the project.
"We use two modes of data collection: online and landlines," she said. "The online sample is supplied by Survey Sampling International. For the landlines, the Hispanic phone lists are supplied by Aristole, Inc and then the questions are recorded in both languages English and Spanish. Finally, the we use a computer software call Stratics to randomly pick phone numbers and call. The calls are automated and the questions are pre-recorded or what is call robocalling. IVR stands for Interactive Voice Response which is a technology that allows respondents to interact with surveyor (which pre-recorded the questions) via a telephone keypad or by speech recognition."
Hispanics' short-run economic outlook for the country dipped, with only 50 percent saying they expect the country as a whole to experience good business conditions in the upcoming year, down 11 points compared to the first quarter. Among survey takers 52 percent said they think it is good time to buy big-ticket items, compared to 69 percent in the first quarter.
Four out of five poll takers said the cost of living has gone up, a 21 percent rise since the first quarter. Per the press release, this perception, along with increasing concerns over their level of debt, rising gas prices and interest rate hikes, may explain why only 51 percent said they think it is a good time to buy a house (down from 59 percent in the first quarter), and only 49 percent said it is a good time to buy a car (down from 62 percent).
Sixty-eight percent of respondents said they were born in the United States; 65.5 percent self-identified as Mexican, Mexican-American or Chicano; 50.5 percent were men; 36.5 percent said they were employed full-time; 64 percent said they owned their home; and 42.5 percent were between 18 and 34 years of age.
According to a press release, the Florida Atlantic University Business and Economic Polling Initiative conducts surveys on business, economic, political and social issues with a focus on Hispanic attitudes and opinions at regional, state and national levels via planned monthly national surveys. Florida Atlantic University, established in 1961, officially opened its doors in 1964 as the fifth public university in Florida. The same release indicates the University serves more than 30,000 undergraduate and graduate students through 10 colleges at sites throughout its six-county service region in southeast Florida.