Posted by Elena del Valle on June 18, 2018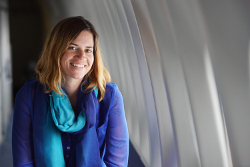 Amelia Geary, director of Program Development + Quality, Orbis International
Photo: Geoff Oliver Bugbee
A podcast interview with Amelia Geary, director of Program Development + Quality, Orbis International is available in the Podcast Section of Hispanic Marketing & Public Relations, HispanicMPR.com. During the podcast, she discusses eye healthcare and world's only flying eye hospital with Elena del Valle, host of the HispanicMPR.com podcast.
Amelia has worked in the international non-governmental organization sector for 15 years, with a professional focus on program design, management and implementation. She obtained her master degree in International Affairs with a focus on infrastructure development from Columbia University. Her career has spanned across Africa, Asia and Latin America, where she delivered programs in prevention of blindness, maternal newborn and child health, water and sanitation, nutrition and training of medical professionals.
Prior to joining Orbis, Amelia worked with several emergency and development organizations, including Action Against Hunger – USA, United Nations Development Programme, The World Bank Water and Sanitation Program, and Concern Worldwide.
Amelia first joined Orbis in 2007 as the Flying Eye Hospital program manager. She returned in 2014 to her current position.
To listen to the interview, scroll down until you see "Podcast" on the right hand side, then select "HMPR Amelia Geary" and click on the play button below or download the MP3 file to your iPod or MP3 player to listen on the go, in your car or at home from the RSS feed. Some software will not allow flash, which may be necessary for the play button and podcast player. If that is your case, you will need to download the file to play it. To download it, click on the arrow of the recording you wish to copy and save it to disk. The podcast will remain listed in the June 2018 section of the podcast archive.