Posted by Elena del Valle on June 14, 2018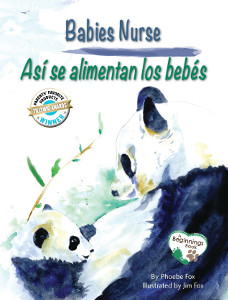 Babies Nurse/Así se alimentan los bebés
Photos: Platypus Media
Platypus Media released two new bilingual titles this month, Babies Nurse/Así se alimentan los bebés, for children four to seven years old, and Cuddled and Carried/Consentido y Cargado for children up to four years of age. The softcover titles, in full color and 32 pages in length, each sell for $9.95. The first booklet was written by Phoebe Fox and illustrated by Jim Fox. The second title was written by Dia L. Michels and illustrated by Mike Speiser. Both were translated by Victory Productions.
When asked about the translation Michels, owner, Platypus replied: "The bulk of the translation was done by Victory Productions, a company based out of Massachusetts, but we also had many many trusted individuals look over the translation to ensure accuracy. Most notably, Edgardo Moctezuma of Latin American Book Source, Inc volunteered to guide us through the translation process and gave his advice along the way." 
Cuddled and Carried/Consentido y cargado
The publisher plans to target educators, especially those with a high percentage of English Language Learners or who offer dual language programs,  librarians, health care providers and departments of health, breastfeeding organizations, mother-to-mother support groups, early childhood centers, and literacy programs across the country. 
Dia Michels, author, Cuddled and Carried
"We are committed to the promotion and protection of breastfeeding, and donate a percentage of profits to groups that work in this field," said Michels. "These two publications are the inaugural titles in our new Beginnings series of books for young readers."
Michels is an internationally published science and parenting writer who has authored or edited more than a dozen books for children and adults. Her titles include If My Mom Were a Platypus: Mammal Babies and Their Mothers and Look What I See! Where Can I Be? With My Animal Friends. Her books have been translated into Spanish, Hebrew and Dutch.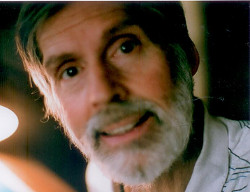 Mike Speiser, illustrator, Cuddled and Carried
Speiser's artwork has been featured on the covers of Wild Animal Baby magazine and on fundraising products for science organizations. His paintings have been displayed at the Leigh Yawkey Woodson Art Museum. He is involved with efforts to protect the natural world for future generations. He lives next to the Black Hills of South Dakota.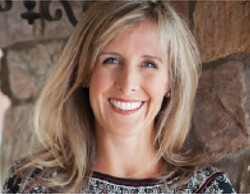 Phoebe Fox, author, Babies Nurse
Phoebe Fox wrote Babies Nurse / Así se alimentan los bebés to show children that all mammals provide milk for their babies. She has degrees in Early Childhood Development and Curriculum Instruction and experience as an elementary school librarian.
Jim Fox, illustrator, Babies Nurse
Jim Fox is Phoebe's father-in-law. He retired from the NBA, where he played for the Phoenix Suns.
Platypus Media is an independent press that "creates products with a broad appeal to diverse families who believe in the importance of close family relationships for the full and healthy development of children." Platypus books are distributed through National Book Network and are available widely through bookstores, retailers, and online sites as well as through the publisher's website. Title 1 schools, literacy groups, and non-profits can find them, at deep discount, on the First Book Marketplace.
---
Click to buy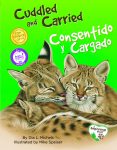 Cuddled and Carried / Consentido y cargado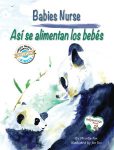 Babies Nurse / Así se alimentan los bebés
---