Posted by Elena del Valle on June 4, 2018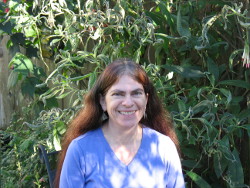 Laura J. Miller, Ph.D., author, Building Nature's Market
Photos: author photo courtesy of Elias Johansson-Miller*
A podcast interview with Laura J. Miller, Ph.D., author, Building Nature's Market: The Business and Politics of Natural Foods is available in the Podcast Section of Hispanic Marketing & Public Relations, HispanicMPR.com. During the podcast, she discusses the evolution of the natural foods market with Elena del Valle, host of the HispanicMPR.com podcast.
Laura J. Miller is associate professor of Sociology at Brandeis University. She received her Ph.D. in Sociology from the University of California, San Diego, and previously taught at the University of Western Ontario and Vassar College. Her research focuses on the intersection of cultural and economic factors within industries characterized by moral commitments to their products. Building Nature's Market was published in 2017 by University of Chicago Press. She is also the author of Reluctant Capitalists: Bookselling and the Culture of Consumption.
To listen to the interview, scroll down until you see "Podcast" on the right hand side, then select "HMPR Laura J. Miller, Ph.D." and click on the play button below or download the MP3 file to your iPod or MP3 player to listen on the go, in your car or at home from the RSS feed. Some software will not allow flash, which may be necessary for the play button and podcast player. If that is your case, you will need to download the file to play it. To download it, click on the arrow of the recording you wish to copy and save it to disk. The podcast will remain listed in the June 2018 section of the podcast archive.
---
Click to buy Building Nature's Market
---
*Book cover courtesy University of Chicago Press