Posted by Elena del Valle on May 23, 2018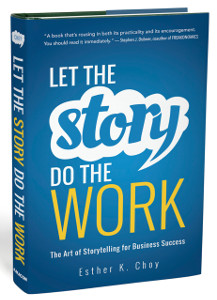 Let the Story Do the Work
Photos: Leadership Story Lab
After dedicating 20 years to evaluating the potential of future leaders to succeed for a living, as a university admissions officer, Esther Choy, M.B.A., decided to change career tracks. Now she is president of Leadership Story Lab. Taking advantage of the lessons learned in both jobs about the value of stories in the business environment she wrote a 230-page hardcover book for business leaders with technical, quantitative and analytical expertise who need to master communication so that they can inform and influence a broad set of audiences. Last year, Let the Story Do the Work The Art of Storytelling for Business Success (American Management Association, $24.95) was published.
"I've seen it from both sides," Choy said by email when asked what makes her an expert on the subject. "Spent my twenty-year career on developing and evaluating leaders' potential to succeed. The key is storytelling, which leads to job promotion, new clients and record fundraising."
In the jacket of the book she promises readers it will help them by breaking down the art of storytelling into step-by-step guidelines, insights, and examples so they can weave storytelling techniques into their communications and strengthen their impact. The book, which has several pages of end notes, is divided into eleven chapters and three main parts: Anatomy of a Story, Bringing Stories to Life, and Stories in Action.
When asked if there are business types for which letting the story do the work is not advisable or doesn't work she replied, "No. I wrote the book with a general business audience in mind. However, one thing to note is that Let the Story Do the Work is not meant to be a book on writing. Contrary to popular belief, oral storytelling shares more things in common with performing arts and it does with writing."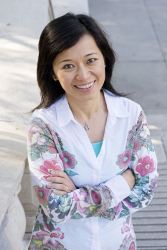 Esther Choy, author, Let the Story Do the Work
The author believes in the power of well told personal stories combined with social influence to elevate a narrator's ability to stimulate effective networking and inspire conversations as well as audiences during presentations. Asked about data accumulation by third parties, that some people may be shy about sharing more private information, and what other options they have she replied, "It's precisely because third parties data collection is constant and inevitable that we have to take active control of our own narrative. Keep in mind, your compelling story shouldn't just have your credentials or competence, which are both easy to search in this day and age. It should first and foremost share your characters. What make you you is the core of personal storytelling."
When asked about the impact of technology, including AI, on the work environment and whether story telling may be affected she said, "Technology can connect us in ways never imaginable. If misused, however, technology create more harm than good. Just think the term, 'Death by PowerPoint.' The key to using tech without abusing is to never assume that it will solve all our problems. People still need other people, that may never be replaced by machines."
In her current company Choy coaches managers in storytelling techniques. She also teaches in the executive education programs at Northwestern Univerity's Kellogg School of Management. Prior to that she served as admissions officer for the University of Chicago Booth School of Business.
---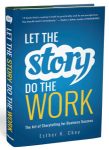 Click to buy Let the Story Do the Work
---