Posted by Elena del Valle on April 12, 2018
The Ultimate Job Search Guide
Photos: Simon and Schuster, Knock 'em Dead
For 32 years Martin Yate, CPC has been "thinking about, writing and helping people through the issues that can advance a career or get a stalled one back on track." During that time he has shared his insights in 18 books in 85 editions. Updating existing books requires approximately three months of work. In the 32nd edition of Knock 'em Dead: The Ultimate Job Search Guide (Adams Media, $17.99) published last year he outlines his latest tips for job finding.

When asked about the target audience for his book he replied by email "...anyone who can read, wants to be successful, achieve financial stability and live a personally fulfilled life. The professional world. I have readers who started with me after graduation and now make speeches at Davos & G7, single parents struggling to get ahead from a bad starting place, and everything in between. I have honed a comprehensive and completely new approach to career management that makes sense to anyone at any age, professional title, socio-economic status or situation. I don't waste words so every page of every book offers common-sense advice that anyone can apply to their unique situations, which is all focused on you personally, achieving success, stability and fulfillment."
The 400-page softcover book is divided into 30 chapters and four parts: The Well-Stocked Briefcase, Get the Word Out, Great Answers to Tough Interview Questions and Finishing Touches. It addresses age discrimination, career changes, confidential job searches, staying ahead of disruptions as well as answering tricky and touch interview questions, social media and other job search and job finding issues. The chapters include tips, highlighted in a blue background.


Martin Yate, CP, author, The Ultimate Job Search Guide
"My 360 degree understanding of career issues that come from being one of the early Silicon Valley international technology headhunters, Director of HR at Bell Computer Memory Division, Dir of Training & Development at world's 3rd largest employment services company, and spending the majority of my waking moments for 32 years, thinking about, writing and helping people through the issues that can advance a career or get a stalled one back on track," the author said when asked about his qualifications to write the book.
When asked about the impact of artificial intelligence on the job market he replied, "It's too scary to think about but think and prepare we must because since 1948, recessions have come round with regularity every 7-10 years; each time they get a little deeper, with longer recovery every time. The last one topped out at 10 percent unemployment in 2012, and 6 percent of our workforce are discouraged workers many of whom lost their ability to make a living because of the impact of earlier waves of technology adoption.

Now let's add in the impact of AI: No less an authority than Forrester Research released a report last year on the impact of of AI on employment by 2027, the highlights are: We will lose 16 percent of all jobs, at all levels, in all industries and professions and that 30 percent of today's heritage technology companies will cease to exist. Put these facts together and we could be looking at 20 percent+ unemployment."

To the question of what jobs might be available in the next decade he replied, "The same Forrester report predicted 9 percent of new jobs created will be in AI. Beyond this it is almost impossible to say. I have a belief that this upheaval will necessarily increase entrepreneurial endeavor. Beyond that the safest jobs will be those that are driven by demographics (example the aging population), or require interaction with the customer, making the professional trades more appealing."
---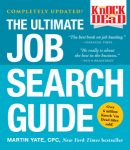 Click to buy Knock 'em Dead: The Ultimate Job Search Guide
---