Posted by Elena del Valle on March 28, 2018
Delish-ioso
Photos: Eclipse Marketing Services, Inc., delishioscookbook.com
In 2017, nine women and eight men television stars, entertainers and celebrity chefs, most Spanish language celebrities with ties to Latin America, shared 45 recipes of favorite dishes in Nexos Latinos' Delish-ioso: A Collection of Latino Chef and Celebrity Recipes (Eclipse Marketing Services, Inc., $35). The publication targets bilingual and bicultural Hispanic American food lovers, who are family oriented, like "to spend time cooking and following Latino celebrities; also favor brands and products that give back to the community."
The full color book includes recipes in Spanish and English, in that order, and the Spanish language font is larger than the English language font. It features recipes from Colombia, Cuba, Dominican Republic, Mexico, Puerto Rico, and Venezuela.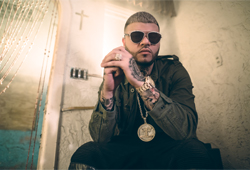 Farruko, contributor, Delish-ioso
The 234-page hardcover book printed in the United States includes page sized photos of the contributors and dishes as well as cultural tidbits about the recipes. The project required one year from idea to publication and features the work of 53 photographers. The publisher partnered with Hudson County Community College (HCCC). According to promotional materials, for every book sold a portion of the net profit will be donated to the HCCC Foundation to benefit its culinary arts program.
To the question of what portion of the net profits exactly will be donated to HCCC, a spokesperson replied by email as follows: "With the sale of every book we will be donating a portion of the net profits to the Culinary Arts Institute of the Hudson County Community College (HCCC). The HCCC Culinary Arts and Hospitality Management program is nationally recognized for excellence and was ranked sixth 'Best Culinary School' in the U.S. by 'Best Choice Schools.' The HCCC is also designated as a Hispanic-Serving Institution (HSI), one of only 275 colleges and universities in the U.S. recognized as such by the Hispanic Association of Colleges and Universities (HACU). By partnering on this cookbook, the college will benefit from a portion of the net profits, and have the ability to continue awarding distinguished students financial scholarships."
The cookbook's editor-in-chief was Donna Hernández, who, according to promotional materials has over 20 years of experience with the United States Hispanic market. Hernández invited celebrities she had worked with in the past to be a part of the project.
Lorena Garcia, contributor, Delish-ioso
The project participants, who will receive no financial remuneration for their recipes, are: Karla Martinez, TV host, Univision; Ingrid Hoffmann, celebrity chef; Luis Coronel, singer; Jacob Forever (Yosdani Jacob Carmenates), singer; Sharlene Taule, actress and singer; Helen Ochoa, singer; James Tahhan, celebrity chef, Telemundo; Jonatan Sanchez, singer; Lorena Garcia, celebrity chef; Jessica Carrillo, TV host, Telemundo; Farruko (Carlos Efrén Reyes Rosado), singer; Silvestre Dangond, singer; Vianney Rodriguez, blogger, sweetlifebake.com; Leslie Grace (Leslie Grace Martinez), singer; Adriel Favela, singer; and Omar Giner, chef and restaurant owner.
Nexos Latinos is a magazine and brand published by Eclipse Marketing Services, Inc. Nexos Latinos and Eclipse Marketing Services are owned by Margaret Boller, who is the chief executive officer and Founder. The cookbook is available exclusively on the company website.