Posted by Elena del Valle on March 19, 2018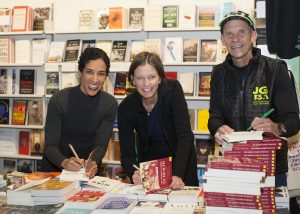 Click to enlarge – Carmen Mohan, M.D., Ruth Parker, M.D. and Jeff Galloway, co-authors, The Women's Guide to Health
Photo: authors photo by Nikki Strayhorn, book cover courtesy of Meyer & Meyer Sport
A podcast interview with co-authors Jeff Galloway, Carmen Mohan, M.D., and Ruth Parker, M.D., is available in the Podcast Section of Hispanic Marketing & Public Relations, HispanicMPR.com. During the podcast, they discuss The Women's Guide to Health Run Walk Run, Eat Right, and Feel Better (Meyer & Meyer Sport, $12.95) with Elena del Valle, host of the HispanicMPR.com podcast.
Jeff, an Olympic athlete, has spent more than 50 years developing, practicing, evaluating, and teaching his Run Walk Run method. He has coached over one million runners to their goals through his retreats, clinics at events, and individual consultations, running schools and books.
Carmen is an internal medicine physician, health media consultant, and marathon runner who prescribes food and exercise as medicine. A competitive runner in college, she suffered injury after injury until beginning Run Walk Run.
Ruth is a primary care doctor trained in Internal Medicine and Pediatrics. She is a lifelong athlete who has completed 28 marathons using Run Walk Run. According to her biography, she is nationally known for her work in health literacy.
To listen to the interview, scroll down until you see "Podcast " on the right hand side, then select "HMPR " and click on the play button below or download the MP3 file to your iPod or MP3 player to listen on the go, in your car or at home from the RSS feed. Some software will not allow flash, which may be necessary for the play button and podcast player. If that is your case, you will need to download the file to play it. To download it, click on the arrow of the recording you wish to copy and save it to disk. The podcast will remain listed in the March 2018 section of the podcast archive.
---
Click to buy The Women's Guide to Health
---