Posted by Elena del Valle on March 8, 2018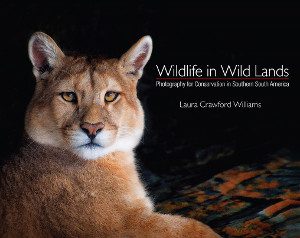 Wildlife in Wild Lands
Photos: Laura Crawford Williams
After years of intense work at a software company in the 1990s Laura Crawford Williams needed to recharge so she turned her attention to wildlife photography. She began near her home and in time traveled far away to capture images that were published in wildlife magazines. She has spent 18 years as a wildlife conservation photographer. In October 2017, Wildlife in Wild Lands Photography for Conservation in Southern South America (My Wild Life Press, $34.95), her first photography book, was published.
"I never intended to become a professional wildlife photographer. I was simply doing what I love to do," she said by email through her publicist when asked about her work.
She used two Nikon D4s camera bodies with various professional lenses, filters, and a tripod. All photography was completed between 2007 and 2015 for the 230-page softcover book. Book conception and production, at its earliest stages, began in November of 2015.
When asked about her goal in publishing the book she replied, "We are the only species with the ability to modify the planet so significantly that we affect the lives of every other species living here. As a result, species are disappearing at an unprecedented rate. We must all participate in the protection of habitats and species as citizens, organizations, federal entities, and local governments. This project is my labor of love to that end. I hope to inspire in others, my own desperate desire to protect the natural world – every tiny, amazing piece of it!"
The book has six chapters, in English and Spanish, and 150 large (some occupying most of the page) photographs of 113 species; each with captions describing behavior, conservation challenges and status. There are 66 photos in a final chapter, titled Between Frames, with accompanying descriptions of her work and adventures in the field.
She photographed several animals in rehabilitation centers where animals are unable to be re-released due to injury or illness. Images of captive animals are labeled in the accompanying caption.
When asked about enhancement software and modification of the photos from their raw originals she replied, "Nikon RAW files were brought into Photo Mechanic and selected files were converted to TIFF format. TIFF files were then opened in Photoshop for global edits such as contrast, saturation, color-balance, noise, sharpening, cropping, or straightening, as needed or desired. I call these global edits since they are applied to the entire image and not to selected areas. Occasionally, when I felt the image would benefit visually by focusing on the subject more directly, I'd add a vignette or graduated neutral density filter via Photoshop (if I had not already done so in the field). I will also sharpen selectively as needed."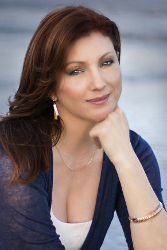 Laura Crawford Williams
"I did not receive any money or in kind contributions from a third party in exchange for promotion, mention in the book," the photographer replied when asked whether she received money or in kind contributions from a third party in exchange for promotion, mention in the book. "Sponsorship and endorsement were given and offered freely. We raised $60,126 during a 30 day Kickstarter campaign in October. However, once we paid the required Kickstarter fees, costs related to reward production/fulfillment, and income tax we were left with just over half that amount. I financed the entire project outside of the Kickstarter contribution. All money earned via sales and presentation goes toward reimbursement for the remaining book production and marketing costs. Once the production and marketing budget is reimbursed, any and all proceeds will go into an account setup specifically for the printing of additional editions. This is the agreement I made with the National Parks Association, National Parks Foundation, and President Mauricio Macri of Argentina."
Crawford Williams plans to publish two more photography books. "People have been asking if I would write a book about my adventures in the field with my team," she said when asked about future books. "Audiences have thoroughly enjoyed hearing stories about being on the road in some of the most remote areas of the world, as well as about working with potentially dangerous species. They can't believe some of the uncomfortable challenges we had to overcome. As for the second one, I have a large collection of images taken while living and working in the prairies of Iowa, Nebraska, and South Dakota for 12 years. I'd like to showcase the best of this collection and inspire people to appreciate the subtle and fragile beauty found in our prairie ecosystems."
---
Click to buy Wildlife in Wild Lands (English and Spanish Edition)
---