Posted by Elena del Valle on February 26, 2018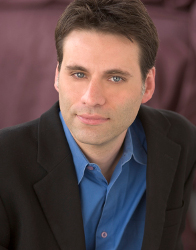 Frank Ford, co-author, Happy Accidents
Photo: Courtesy of Four Day Weekend
A podcast interview with Frank Ford, co-author, Happy Accidents the Transformative Power of "Yes, and" at work and in Life, is available in the Podcast Section of Hispanic Marketing & Public Relations, HispanicMPR.com. During the podcast, he discusses the transformative power of improv with Elena del Valle, host of the HispanicMPR.com podcast.
Frank has had a successful career in the entertainment industry for the last 25 years and is one of the founding members and owner of Four Day Weekend, a Texas comedy company. He has also studied at the Second City Conservatory in Chicago and taught advanced improvisation classes at the Four Day Weekend Training Center.
Frank has appeared in numerous commercial spots, television shows and films. In addition, he has been recognized for his original comedy revues, comedy album, short films and acting roles. In addition to performing in over 5,000 shows and working with Fortune 500 companies throughout the world, Frank is a keynote presenter on the speaker circuit.
To listen to the interview, scroll down until you see "Podcast Frank Ford" on the right hand side, then select "HMPR " and click on the play button below or download the MP3 file to your iPod or MP3 player to listen on the go, in your car or at home from the RSS feed. Some software will not allow flash, which may be necessary for the play button and podcast player. If that is your case, you will need to download the file to play it. To download it, click on the arrow of the recording you wish to copy and save it to disk. The podcast will remain listed in the February 2018 section of the podcast archive.
---
Click to buy Happy Accidents
---