Posted by Elena del Valle on November 1, 2017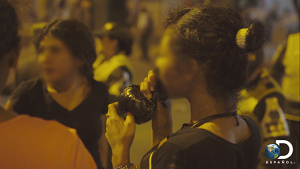 A scene from El Mercado de la Inocencia
Photo, video: Discovery en Español
At 10 p.m. E/P this Sunday November 5 Discovery en Español will air for the first time El Mercado de la Inocencia, a one hour Spanish language documentary (44 minutes of documentary) about sex tourism in Medellin, Colombia, as part of the Discovery a Fondo investigative programming block. The program, often featuring dark scenes filmed with what appear to be hidden cameras, focuses on the former drug trafficking and extreme violence destination now an international capital of sex tourism, including the sale of underage sex. Scroll down to watch a video clip in Spanish.
According to promotional materials, many of the illegal networks run by foreigners in the United States and Europe offer Medellin guided tours with underage prostitutes in their packages available for online purchase. Narrated and directed by David Beriain, a journalist and researcher known for his work on Clandestino's, the project was headed by Michela Giorelli, Rafael Rodriguez and Carlos Cediel. The program was produced by 93 metros, an independent Spaniard production company, earlier this year and required six months to produce. A Discovery en Español spokesperson declined to share any information on production costs.
"No, we did another documentary about sex tourism in Cartagena a few years ago," said Michela Giorelli, vice president, Production and Development Discovery Latam/USH, when asked by email via a publicist if this is the first time the network airs a documentary about sex tourism. "We have also explored the subject with ''Trata de mujeres: de Tenancingo a Nueva York'', an Emmy Award winning documentary about sex trafficking that aired as part of Discovery a Fondo, the networks's investigative programming block." When asked if anyone in the film was compensated financially to participate (be video or audio taped or interviewed), she replied, "No, nobody is ever compensated in our investigative documentaries."
According to the documentary, 24,000 people a day seek sex for sale in Medellin; and more than 90 percent of the sex workers in the city are drug addicted. Government officials and police appear on camera. Street scenes show scantily clad women. In some shots prostitutes with their identities concealed discuss their work and in others sex workers and customers can be seen from a distance. A spokesperson explained that "Most of the cameras were located in such places to protect the identity of interviewees and also to make sure we were getting the "real thing.'' After November 5, 2017 the documentary should be available on the Go app. Discovery en Español.