Posted by Elena del Valle on October 16, 2017
Stacey Hanke, author, Influence Redefined
Photo: Stacey Hanke
A podcast interview with Stacey Hanke, author, Influence Redefined Be the Leader You Were Meant to Be (see Corporate trainer shares her ideas on influence) is available in the Podcast Section of Hispanic Marketing & Public Relations, HispanicMPR.com. During the podcast, she discusses Influence Redefined with Elena del Valle, host of the HispanicMPR.com podcast.
Stacey founded Stacey Hanke, Inc. in 2004 to provide keynotes, training, and coaching for organizations in manufacturing, healthcare, retail, advertising, financial, and insurance. She wrote Yes You Can! Everything You Need from A to Z to Influence Others to Take Action. Stacey holds a certification as a Speaking Professional for the National Speakers Association, is a Member of the C-Suite Network Advisors, and a Member of the Forbes Coaches Council.
To listen to the interview, click on the play button below, scroll down until you see "Podcast" on the right hand side, then select "HMPR Stacey Hanke" and click on the play button below or download the MP3 file to your iPod or MP3 player to listen on the go, in your car or at home from the RSS feed. Some software will not allow flash, which may be necessary for the play button and podcast player. If that is your case, you will need to download the file to play it. To download it, click on the arrow of the recording you wish to copy and save it to disk. The podcast will remain listed in the October 2017 section of the podcast archive.
---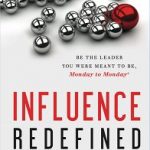 Click to buy Influence Redefined
---