Posted by Elena del Valle on October 12, 2017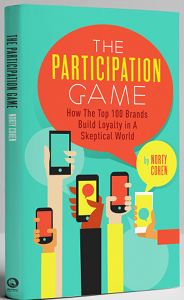 The Participation Game
Photos: Norty Cohen
Old style advertising has become an act of indecent exposure, that is out of touch with Millennial consumers and indicates the degree of desperation of the advertising brand. That is what Norty Cohen, chief executive officer, Moosylvania, believes after examining the replies of paid mobile survey respondents aged between 17 and 37. In his first book, the product of two years of labor, he outlines his thoughts on the subject.
The Participation Game How The Top 100 Brands Build Loyalty in A Skeptical World (Ideapress Publishing, $24.95), was published this year for marketers "hoping to reach millennial consumers – which is a broad 20 year demographic, born in 1980 to present." The 226-page softcover book is divided into nine chapters with limited text, some black and white photos, varied font sizes and types, and graphic design elements. 
When asked what promoted him to write a book he said by email via his publicist, "Yes – the process of writing a non-fiction book was enlightening. It starts with a thesis that can be supported in a compelling and differentiating style. Since our inception in 2003, we have served clients with both an integrated marketing agency and a research facility. Originally, we used our research tools to answer the questions we needed to better serve our clients. Once we had traction, we decided to share it with a larger audience.
The success has been that we have been able to bring our clients through a logical thought process of how to use the research we conducted over a 5 year period.
We believe there is a continued gap in understanding the deliverable of messaging. Consumers have learned to curate messages out of their life. They are their own marketers. They are in control. Media has always worked from the concept of delivery. We must now look at our connectivity with consumers as a partnership that is a living, breathing entity."
Norty Cohen, author, The Participation Game
When asked which market segments the respondents represent Cohen said, "We worked hard to get a diversified base both demographically and geographically. All surveys were mobile only. The age segments from this year's report were in 10 year increments, 17-27 and 28-37 years old. Some years we broke it into 5 year segments but we kept it the totals and measurement even."
The first part of the Top 100 List 2013-2017 is filled with easy to recognize company names beginning with Apple. Next in descending order are Nike, Samsung, Target, Amazon, Sony, Wal-Mart, Microsoft, Coke and Google. Because some brands tied there are more than 100 brands on the list. The last names, also in descending order, are REI, Mazda, Carter's, Publix, Anheuser Busch and YouTube (tied), Urban Decay, Anthropologie, Subway, Johnson & Johnson & PG (tied), Guess, and Ross.
"Our research show that consumers choose to participate in brands, they do not consume advertising," he said when asked how and why consumers adopt brands. "We found that word of mouth from friends and family, on line word of mouth, infleencers (influencers) and written reviews are 2.5 more likely to encourage brand adoption that TV, Facebook and You Tube ads combined. Consumers create the exponential reach that makes them a dominant force."
To what is the take away for a non profit or small company on a shoestring budget – how can they develop brand recognition? he replied, "Ultimately it comes down to delivering great ideas that get consumers motivated to share with their friends. It's not about your target market. It's about your target's market."
---
Click to buy The Participation Game
---