Posted by Elena del Valle on August 31, 2017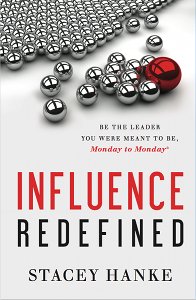 Influence Redefined
Photos: Stacey Hanke
After 25 years of experience teaching others how to communicate Stacey Hanke is convinced 95 percent of leaders are less influential than they think they are. It is called Illusory Superiority or the Above Average Effect when people judge themselves better than average, she says in Influence Redefined Be the Leader You Were Meant to Be, Monday to Monday (Greenleaf, $23.95).
In the 251-page hardcover book published this year for leaders, directors to C-suite, and sales professionals Hanke outlines what she believes are the issues leaders face in today's highly digital business environment. She says the classic definition of influence is outdated, emphasizing that if a leader's audience isn't paying attention to him or her she or he can't influence them.
When asked what prompted her to write the book now, the author replied by email via her publicist, "After partnering with leaders over the past 15 years to help them enhance their influence, the same challenges came up. Most individuals believe they are more influential than they really are. I have a passion to increase leaders awareness of how their listeners perceive them rather than what they believe to be true. To give leaders practical and immediate how to's for growing their influence Monday to Monday®. Why now – because we are living in a new world of work called noise. 24/7 every day we are receiving messages. Therefore it is more difficult than ever before to stand out from the noise, to be memorable and to influence Monday to Monday."
The book is divided into 12 chapters in three main parts: Influence Redefined, The Drivers of Influence and The Elements of Influence. At the end of the chapters there is a bullet point summary followed by recommended action steps.
Stacey Hanke, author, Influence Redefined
From idea the publication it took her 3.5 years to publish the book. She explained, "I wanted to make sure I had the keys to why some individuals are more influential. I wanted to take the time to do the research and to interview top influencers. Narrowing down all of the content and ideas I had for writing the book was the greatest challenge. The greatest reward has been the positive feedback I receive from my readers!"
"Influence means your body language and messaging are consistent Monday to Monday," she said when asked to define the term. "The second part of this definition is moving people to take action long after the interaction has occurred."
When asked what factors affect people's influence most she said, "Body language being consistent with message, consistency – no one ever needs to guess who is going to show up, adaptability – being able to adapt your message on the fly to meet your listeners expectations without ever skipping a beat, impact – having impact on your listener that makes you and your message memorable and un-resistible to act on your recommendations."
In response to a question about the impact of gender, age, race bias, socio-economic characteristics on influence, she replied, "Influence is a choice. Anyone can have influence Monday to Monday® if they're willing to do the work, be consistent and never stop learning."
---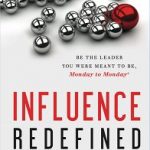 Click to buy Influence Redefined
---