Posted by Elena del Valle on July 10, 2017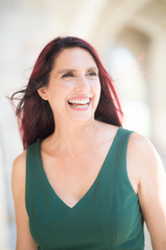 HeatherAsh Amara, author, Warrior Goddess Training
Photo: HeatherAsh Amara
A podcast interview with HeatherAsh Amara, author, Warrior Goddess Training is available in the Podcast Section of Hispanic Marketing & Public Relations, HispanicMPR.com. During the podcast, she discusses applying warrior goddess principles to your personal and business life with Elena del Valle, host of the HispanicMPR.com podcast.
A leader in mindfulness, empowerment and shamanism, HeatherAsh is also the author of The Toltec Path to Transformation, Embracing the Four Elements of Change. The heart of her teachings stems from her long Toltec apprenticeship and teaching partnership with Miguel Ruiz, author, The Four Agreements. Over the past fifteen years she has taught workshops and apprenticeships and trained teachers. She now travels the world working with women to integrate the feminine wisdom of the ancients into their modern lives.
To listen to the interview, click on the play button below, scroll down until you see "Podcast" on the right hand side, then select "HMPR HeatherAsh Amara" and click on the play button below or download the MP3 file to your iPod or MP3 player to listen on the go, in your car or at home from the RSS feed. Some software will not allow flash, which may be necessary for the play button and podcast player. If that is your case, you will need to download the file to play it. To download it, click on the arrow of the recording you wish to copy and save it to disk. The podcast will remain listed in the July 2017 section of the podcast archive.