Posted by Elena del Valle on April 20, 2017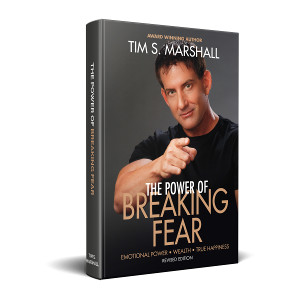 The Power of Breaking Fear
Photos: StarGroup International
Hoping to share his ideas with young professionals, entrepreneurs, and "anyone who is willing to take action to better their life" Tim S. Marshall, a public speaker and entrepreneur, authored The Power of Breaking Fear, his first book (StarGroup International, $29.95). The 212-page softcover revised edition of the book was published this year.
"I wanted to share my belief that anything is possible if you start with awareness and approach fear as a motivation, not an obstacle," Marshall said by email via his publishing company when asked why he wrote his first book.
Tim S. Marshall, author The Power of Breaking Fear
The book is written in first person, easy-to-read personal style with thoughts extracted and printed on the page margins in italics. The author emphasizes his experiences and draws conclusions and recommendations from them. For example, he believes that awareness and having an open mind are essential to overcoming fear, and lead to internal and external wealth. He also says that most people are intimidated from pursuing our goals for fear that we are not good enough to succeed.
"There are varying degrees of fear based on individual circumstances and past trauma, so the obstacles may be more significant for some," he said, when asked if everyone can overcome fear and to what degree. "However, I believe that virtually everyone has the potential to act and overcome. It's not about disengaging the fear that prevents you from doing things that would harm you. It's about embracing the fear that holds you back from positive things that you desire and deserve. It's about becoming aware of those fears that stand between you and your potential and then pushing through the self-doubt and discomfort with intention.
When asked how long it took to publish the book he replied, "I took notes for 25 years. After my divorce, I wrote incessantly for a year and isolated myself in order to express these 25 years of notes, thoughts, and ideas that I gained from interacting and coaching thousands of customers and individuals."
The author plans 20 Marshall Principles titles in total, including three before this summer. They are Entrepreneurship – Cracking the Code,  Young Professionals – Frustration to Freedom, and Sales – Selling Yourself to Sell Anything. Marshall is the founder and former owner of Copysource. He has taught Fortune 500 executives at Citrix, Konica Minolta, and Toshiba.
---
Click to buy The Power of Breaking Fear
---