Posted by Elena del Valle on April 3, 2017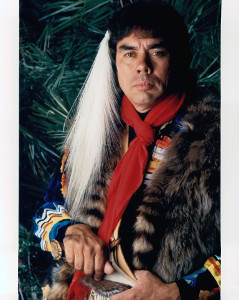 James E. Billie
Photo: Peter Gallagher
Video: Wrestling Alligators, Inc.
James E. Billie was born an outcast in the Florida swamps and grew from poverty to become chairman of the Seminole Tribe of Florida and the most influential man in his tribe. Some might say he is the most influential Native American leader in the past 100 years. Under his leadership the Seminole Tribe became wealthy from reservation gambling on its Florida land. Wrestling Alligators The New Seminole Wars, a 90-minute documentary completed in 2016, shines a bright light on Billie's life, showcasing via vintage news clips, photos, and interviews how he became an alligator wrestler, war veteran, poet, and important leader of the Seminole Tribe of Florida. The film was shown at the Palm Beach Film last week and should be available in digital format soon. Scroll down to watch a video clip from the documentary.
Billie controlled a giant gaming organization that owns casinos and businesses all over the world including the Hard Rock Cafes and Casinos brand. Thanks in large part to his efforts, according to the documentary, the Seminole people's lives were transformed over a 50 year span from living in small huts to being wealthy today. There are between 4,000 and 5,000 Seminoles in the tribe. As a young man Billie wrestled alligators for tourist tips. Later, he enlisted for Vietnam where he served with distinction. After the war, Billie started a chickee hut-building company and became interested in tribal politics. He was elected chairman in the late 1970s. Along the way Billie was nominated for a Grammy that launched his music career.
"We made the film to share James Billie's and the tribe's incredible story," James Eowan, producer of the film, when asked by email about the purpose of the documentary. "This is a story most people have no idea about. Most people don't know the tribe owns Hard Rock, for instance, and if they do, they have no idea how they got to that point."
In 1972, Billie started a small high stakes bingo hall in Hollywood, Florida. It was an instant hit, leading to further gaming success, court fights with the state and federal government, and to a wealth not seen until then among Native Americans. He remains a controversial figure inside and outside his tribe, even at 72, according to promotional materials for the film. The tribe kicked him out of office as chairman of the Seminole Tribe for a decade, only to reelect him in 2011.
"We were extremely fortunate in that James Billie and the Seminoles of Florida have been covered by different facets of the media quite extensively over the years," said Eowan when asked by email what percent of the documentary was from archival footage. "And the tribe also has quite an extensive archive of footage and stills. I would say a good 50 percent of the film is archival and the rest is footage we shot. But we ended up with close to 200 hours of shot footage once we were done."
The film staff started working on the documentary in December of 2012 and finished it in April of 2016 with a budget of less than one million dollars from independent sources. The producers hope to capture the attention of viewers with a passing interest in Native Americans and that "the film's quintessentially American story of a man and his people pulling themselves up from their bootstraps will appeal across all audiences."