Posted by Elena del Valle on March 27, 2017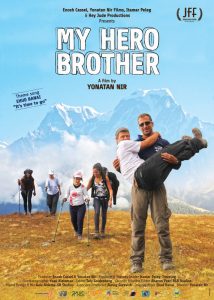 Poster for My Hero Brother
Photo, video: My Hero Brother
My Hero Brother, a heart-warming, 78-minute Israeli film in Hebrew with English subtitles completed June 2016, will be part of the 22 Annual Palm Beach Film Festival (visit pbifilmfest.org/event-calendar) taking place beginning March 29, 2017 in Palm Beach County, Florida. Scroll down to watch a trailer.
Happy and sad at the same time, the film is uplifting and inspiring. Filmed in India with a budget of $306,000 the movie shares the story of a group of remarkable young people with Down syndrome and their siblings who trek through the Indian Himalayas together. Along their journey unresolved conflicts and the complexities of growing up with a Down syndrome child in the family surface.
The idea germinated when Enosh Cassel, later a producer in the film, felt that his busy lifestyle was taking a toll because he wasn't spending enough time with Hannan, his beloved Down syndrome brother. According to a spokesperson, "In 2011, the two embarked on a challenging trek in the Himalayas, in order to spend some much needed quality time together." On their return, Cassel received requests from people who wanted to set out on a similar trek with their own Down syndrome sibling. On August 2013, after two years of planning and preparation, a group of 11 sibling couples ("neuro-typical" and Down syndrome) set on a journey to the Indian Himalayas, where My Hero Brother was filmed.
"In the course of the film, I hope that the viewer will undergo an experience that will change his way of looking at the main characters: not as ill-fated people who have been given a chance to experience a brief release from suffering, but rather as human beings blessed with qualities many of us yearn to have, struggling with their limitations in an highly admirable and courageous way, with the ability to open the hearts of those around them and turn them into better human beings," the director states on the film website.
Yonatan Nir (Dolphin Boy) directed and produced by the film, which according to promotional information became an overnight success. In the first three months of distribution the producers booked 150 educational screenings in Israel, the film was accepted to several international film festivals, and won the Best Documentary Film Award and the Audience Choice Award at the Santa Barbara International Film Festival.
The filmmakers received funding from The Shalem Fund, Gesher Multicultural Film Fund, Mifal Hapais, Avi Chai Fund, and The Second Authority. In addition to the Film festival screening future information on where to view the movie may appear at myherobrother.org