Posted by Elena del Valle on June 17, 2013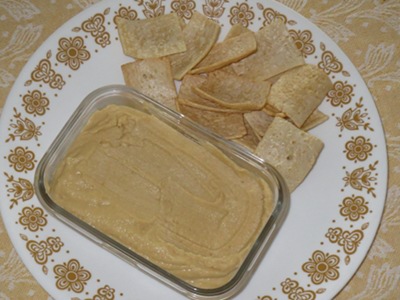 Homemade hummus, a spread made with mashed chickpeas, oil, garlic, and lemon juice  
Photo: HispanicMPR
Americans like ethnic foods. That market segment is estimated at $8.7 billion for last year. Young adults and families with children like to prepare ethnic foods at home. Nine of ten adults 25 to 34 years of age in the United States who took a Mintel survey said they prepared ethnic food at home the previous month.
Among older adults 65 and older who took the survey 68 percent responded positively to the same question. Most people with children at home, 91 percent, said yes to the question compared to 78 percent among people with no children.
Mintel analysis in Ethnic Foods US January 2013 indicates the 12 percent growth in ethnic food sales between 2007 and 2009 was due to people eating in restaurants less often and dining at home more often to save money. While growth of ethnic food slowed to 4.5 percent from 2010 to 2012, according to Mintel that market segment is forecast to grow 20 percent between 2012 and 2017.
Hispanic food among survey takers was the most popular. More than half, 58 percent, said they prepared Hispanic food within the last month versus 55 percent who indicated they made Italian dishes and 44 percent who chose Asian food.
"The popularity of Hispanic food is likely due to how mainstream it has become in the US and the ease and convenience of preparing it," said John N. Frank, category manager, CPG food and drink, Mintel, in a press release. "The endless supply of Mexican, Cuban and other Hispanic-based restaurants have given home cooks infinite possibilities for re-creating these restaurant-style meals at home."
The largest (in terms of sales) of the ethnic food market's five segments, per Mintel data, is Mexican/Hispanic although the growth for that type of food was negligible from 2010 to 2012. The next segment, while much smaller, corresponds to Asian food which had a 10.2 percent dollar sales increase and a 1 percentage point market share growth in the same time period.
Mediterranean/Middle Eastern foods, the third largest segment while much smaller than the other two, grew the most in those two years and is forecast to grow the most in dollar sales between 2012 and 2017. The ethnic food category, Mintel research indicates, responds to price and deals. Survey respondents exhibited low brand loyalty.
Authenticity is the top ethnic food characteristic, according to a July 2012 article (Research Spotlight: Ethnic Foods: Flying High) in SpecialtyFood.com. The article suggests that food manufacturers and marketers would increase consumer interest in their products, women and seniors in particular, by providing and promoting products with health benefits which interest both segments.