Posted by Elena del Valle on August 22, 2011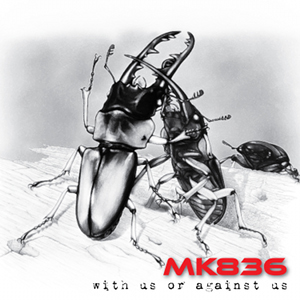 MK836 With Us or Against Us album cover
Photos, song: HardKandyLand Private Studios
Earlier this month, MK836, an electronic trip hop hip hop group, launched With Us Or Against Us, its first album. The album was produced by Brother Noyze The Mad Musician and D-Note with most of the vocals by Tiffany Nikeita. Scroll down to listen to Sky from With Us Or Against Us by MK836.
The name of the group derives from Mark 8:36, a psalm ("What does it profit a man to gain the whole world but lose his soul" referring to the music business that can be so corrupt). The lyrics were written by D-Note/ The album was recorded, mixed and mastered in HardKandyLand Private Studios in Hillside, New Jersey.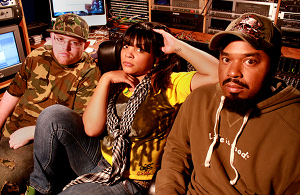 MK836 is Brother Noyze The Mad Musician, D-Note and Tiffany Nikeita
"We only featured two other singers besides Tiffany on this album and they only did one song each, (the) next album may be different." said D-Note. "This experience has been amazing, especially last year when we presented some of the songs in France for music industry people from around the world to positive reactions."
Born in Livingston, New Jersey D-Note (Christopher Collins) loved music from an early age. He began his professional music career after being introduced to Brother Noyze The Mad Musician (Greg L.Hines) by Murdock (Theo Holmes), a mutual friend. D-Note is one half of the recording group Jersey Advocates, a socially conscious hip hop duo, with LJ (Stephen Sebastiao).
Nikeita, born and raised in Trinidad and Tobago, learned to sing by listening to the radio as a child. She was introduced to Hines by Jason Paterson, a mutual friend. After she and Hines recorded a few songs together, he offered her a recording contract.
Hines was born in Newark, New Jersey and began entertaining at an early age at family and school functions by singing, doing character impersonations, acting and reading poetry. He has produced rock, pop, jazz, electronic, trip hop and hip hop albums.

---