Posted by Elena del Valle on March 13, 2015
Win the Game of Googleopoly
Photos: Wiley, Bryan Taylor Johnson
Sean V. Bradley, CSP has made a career in automotive sales. When it comes to online sales he believes Google is king, dominating 67.5 percent of the market. He also believes it is essential to appear among the top ten results or the first page of results on Google. Because, he says, only five percent of people look at results beyond the first page, not being on that page is like not appearing at all.
He is convinced he has discovered search engine optimization techniques that will lead readers of his book Win the Game of Googleopoly: Unlocking the Secret Strategy of Search Engines (Wiley, $25) to Google success. The 249-page hardcover book published this year has 11 chapters where he outlines his SEO theories. The book directs readers to a book related website (it was down at the time this writing).
Sean Bradley, author, Win the Game of Googleopoly
Bradley is founder and chief executive officer of Dealer Synergy Inc. According to his bio, he has personally trained 10,000 automotive sales professionals, and has been hired by 1,000 multi-million dollar automotive dealerships.
---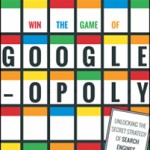 Click to buy Win the Game of Googleopoly
---