Posted by Elena del Valle on December 7, 2011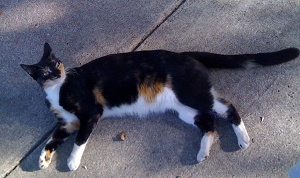 Cats were the second most popular pet
Photos: HispanicMPR
Although the percent of households with children (45 percent in 2010) across the country is leveling off and this trend is unlikely to change given the economic situation, homes with children are more likely to have a pet than childless households, according to America's Pet Owners U.S. September 2011, a Mintel report.
At the same time, some people are acquiring pets in lieu of having children perhaps due to the high cost of child rearing. More than half (54 percent) of respondents to a 2011 online survey of 1,250 pet owners aged 21-30 by Flexcin International said they preferred to have dogs instead of children.
Who owns pets and what kind of pets do they own? Young adults, 18 to 24 years of age, are the most likely to own pets, according to the Mintel survey responses. They may be in search of companionship if they are living alone and these pet owners, researchers believe, are less likely than older pet owners to be aware of the long-term consequences of having a pet. The most common pets were cats, dogs, fish, birds, guinea pig, hamster, ferret, rabbit, snakes and rodents in that order.
Black respondents to the Mintel survey were less likely to own dogs or cats than Hispanics and whites; as residents of densely populated urban areas blacks had less space for pets, according to the Mintel analysis. Many of the Hispanic respondents indicated they lived in a home with a large number of members where space was also limited; this group had a higher ownership of fish and birds than non Hispanics.
Tasha, a chow chow, and her puppies
Mintel researchers believe that since many whites live in suburban or rural areas with ample space to accommodate dogs and cats this group owns cats and dogs in greater numbers than other ethnic and racial groups.
Hispanic respondents to the survey seemed to be most interested in pet friendly accommodations. Black respondents to the survey appeared to be the most likely to hire dog nail trimming, grooming/washing, and teeth cleaning services. At the same time, Hispanic dog owners who participated in the study said they enjoy the fun side of dog ownership, although they appeared less likely to pay close attention to their dog's health or be willing to make personal sacrifices for their dog.
"Our hispanic (Hispanic) market is very low, only 2%, this is due to the reason that we don't have this kind of business in our countries, our business is personalized in home pet sitting, so this requierd (required) to owners to give us a key of their house, alarm codes etc. to enter inside the house, hispanic (Hispanic) costumers call us 'are you crazy? i'm not giving you the key of my house!'" said Oswaldo Cuadros, owner, Pet Sitting at Weston. " Again hispanic (Hispanic) costumers needs to learn the benefit of professional pet sitters."
More whites, often living in larger homes, said they have large and extra-large dogs than other groups. Hispanic survey respondents said they favor toy and small dogs. According to a 2009 Mintel survey, 11 percent of Latinos (compared to 6 percent of non Hispanic households with dogs) who own dogs have Chihuahuas (Mintel's America's Pet Owners U.S. November 2009).