Posted by Elena del Valle on March 28, 2014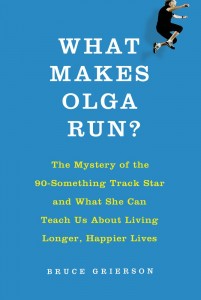 What Makes Olga Run
Photos: Jennifer Williams, Henry Holt and Company
Geriatric runners have become a common site in urban marathons but ninety year old sprinters are exceptional, says Bruce Grierson. In What Makes Olga Run The Mystery of the 90-Something Track Star and What She Can Teach Us About Living Longer, Happier Lives (Henry Holt and Company, $25), the author explores what makes Olga Kotelko, a 91 year old sprinter who held 26 world records in 2009, exceptional.
At five feet and half an inch tall and weighing 130 pounds she is, he explains, extraordinarily strong. As of the publication of the book this year she was the holder of 600 medals.
"I think two types of readers are in the sweet spot:
The first are people who've been lifelong exercisers who are now suddenly burning out or breaking down or both. Having to figure out how to mix things up so as to mitigate the damage and rekindle the interest.
The second group is middle-aged couch  potatoes. Their takeaway message is that it's never too late,"  he said by email in response to a question about the target audience for the book. "The science is telling us that you can make massive gains even deep into life. The trick is to get started. It's hard to start. Olga says that a lot: 'Don't stop, cuz it's hard to get started again.'"
The 231-page softcover book is divided into Prologue, Coda and 12 chapters. In addition to Kotelko, Grierson interviewed dozens of masters athletes and closes the book with nine tips for readers who want to emulate the high performing older athletes.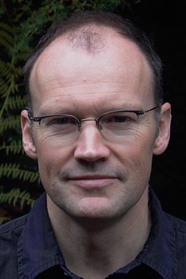 Bruce Grierson, author, What Makes Olga Run?
When asked what the hardest part of the book project was he said: "Getting the running shorts over my pot belly. No, seriously, the difficult part was trying to run a narrative through the all the science without getting bogged down in detail but still getting the facts right. The physiology of aging is a fascinating area that's changing almost by the day. A challenge to stay on top of."
The most rewarding or surprising aspect? "Getting to know Olga as a person, not just as a scientific anomaly or a story 'subject.' We spent a lot of time together. It helped that we were simpatico. She's taught me a lot, and most of it has nothing to do with 'fitness,' per se."
Asked if there was third party funding or sponsorships for the book project he said: "
No. The scientists involved did the testing for free. In McGill's case, the scientists specifically got their own funding to conduct the muscle physiology tests on Olga, as part of an ongoing investigation on aging athletes. The small stuff I paid for. Olga got the guinea pig's discount (i.e. free)."
Grierson, a freelance writer, is author of U-Turn: What If You Woke Up One Morning and Realized You Were Living the Wrong Life? He lives in North Vancouver, Canada.
---
Click to buy What Makes Olga Run?
---