Posted by Elena del Valle on January 13, 2011
Blogged.com, a Southern California site striving to promote social discussions about news from various media sources, rated HispanicMPR.com Excellent with a score of 9.2 out of 10. According to Blogged, Editor Reviews, that site's unbiased critique by editors of English language sites, are based on frequency of updates, relevance of content, site design, and writing style and compared to other blogs within the same category.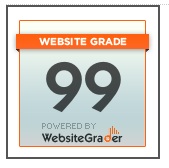 Cambridge, Massachusetts based WebsiteGrader.com, owned by HubSpot, rated HispanicMPR.com 99 of 100. According to the WebsiteGrader website, "A website grade of 99/100 for hispanicmpr.com means that of the millions of websites that have previously been evaluated, our algorithm has calculated that this site scores higher than 99% of them in terms of its marketing effectiveness." The site accomplishes the grading with its own blend of 50 variables, including search engine data, website structure, traffic, and site performance.