Posted by Elena del Valle on July 31, 2009
Wayne English believes the quality of online content is important. He also believes that web content, design and keywords are equally important. That is why he included web development information in his recently published book Web Content Rx A Quick and Handy Guide for Writers, Webmasters, Ebayers and Business People (Career Press, $7.99). In the book, he includes insights on writing easy-to-understand content, choosing a good design, preparing eBay ads, making email addresses unreadable by spammers, and the abc's of making a podcast and blogging.
The 240-page softcover book is divided into eleven chapters: Get Read or Get Lost – Your Content Decides; Writing Your Content; Content That Sells; Using Automated and Other People's Content; E-mail; Your Blog; Getting Found: Content and Search Engines; User-Generated and User-Maintained Content; Communication; Podcasting; and Digital Photography.
There are also 10 appendices: Grammar, A Writer's Checklist, Web Design and HTML, Your Business, A Short Style Guide and Confused Words, Online Tools, HTML Characters and Special Characters; Unspammable E-mail Code, An Almost Foolproof Data Backup Scheme, and Site Search with Google.
English, formerly a professional photographer, is the founder of WebContentRx.com. He makes his living writing online oriented content; doing website analysis; launching e-mail campaigns; and marketing websites for clients.
---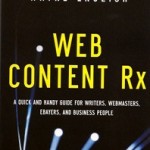 Click here to buy Web Content Rx
---