Posted by Elena del Valle on December 11, 2009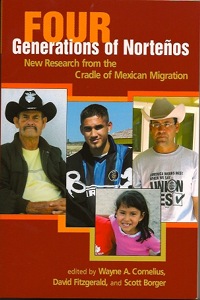 In Four Generations of Norteños New Research from the Cradle of Mexican Migration (Center for Comparative Immigration Studies, $24.50) edited by Wayne A. Cornelius, David Fitzgerald and Scott Borger twenty nine authors share insights on the migration of people over decades between central Mexico and the United States. Their findings are based on many years of data gathered from fieldwork and thousands of recent interviews. The authors examine complex issues such as smuggling people across the Mexico United States border, border enforcement and its possible impact on immigration decisions, and migration's effect on families, health and the economy of the region.
The 250-page paperback book is divided into eight chapters: The Dynamics of Migration: Who Migrates? Who Stays? Who Settles Abroad?; Is U.S. Border Enforcement Working?; Coyotaje: The Structure and Functioning of the People-Smuggling Industry; Jumping the Legal Hurdles: Getting Green Cards, Visas and U.S. Citizenship; Development in a Remittance Economy: What Options Are Viable?; Outsiders In Their Own Hometown? The Process of Dissimilation; Families in Transition: Migration and Gender Dynamics in Sending and Receiving Communities; and The Migrant Health Paradox Revisited.
Wayne A. Cornelius, director emeritus, Center for Comparative Immigration Studies (CCIS)
Cornelius is director emeritus, Center for Comparative Immigration Studies (CCIS), University of California-San Diego as well as Distinguished Professor of Political Science and Theodore E. Gildred Chair in U.S.-Mexican Relations at that university. Fitzgerald, associated director, CCIS is author of A Nation of Emigrants: How Mexico Manages Its Migration. Borger is a Ph.D. candidate in economics at the University of California, San Diego.
---
Click here to buy Four Generations of Nortenos
---