Posted by Elena del Valle on October 9, 2014
Emote
Photos: Career Press
As manager of a team of engineers at Shell Oil Company Vikas Gopal Jhingran, a Massachusetts Institute of Technology-trained engineer and researcher with a Ph.D., had demonstrated his engineering competence frequently, he says; but when it came to client presentation he was out of his comfort zone. A combination of his introverted personality and his immigrant status made public speaking a challenge hard to overcome until he determined to apply himself to improve his verbal communication skills.
By 2007 he became Toastmasters International World Champion of Public Speaking, and the second person of Asian origin to achieve such a distinction. In Emote: Using Emotions to Make Your Message Memorable (Career Press, $15.99), a 223-page softcover book published this year, he shares the insights he gleaned from his personal journey with others, especially introverts and immigrants like himself.
The book is divided into fifteen chapters, an Introduction and an Epilogue spread into three main sections: The Fundamentals, The Mechanics of Speaking, and Other Benefits of Good Communication Skills. The author shares, among other insights and ideas, his experience, emotion based approach and the speeches that led to his public speaking win in 2007.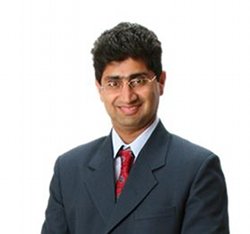 Vikas Jhingran, author, Emote
One of the speeches was about his decision, while living in Texas, to have his mother in India arrange his marriage for him. The second speech was born of a feeling within him that he was not living life to the fullest and his desire to inspire the audience to live life for the moment. The idea behind the speeches was to make his point by moving the audience. Connecting at an emotional level with the audience, he believes, is the secret to his success.
---
Click to buy Emote
---