Posted by Elena del Valle on January 21, 2011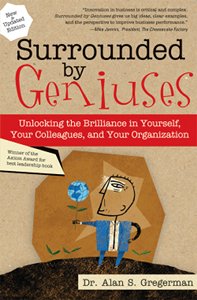 Surrounded by Geniuses book cover
Photo: Sourcebooks, Inc.
In this down economy many people are earning less than they used to and struggling to keep their jobs with employers who take their employees for granted. Smart businesses, some believe, nurture their employees and their abilities. One business consultant believes it is possible and worthwhile to improve business performance, solve problems, and develop the types of new opportunities that provide a company the extra entrepreneurial edge to carry it through in the long term. In his book Surrounded by Geniuses: Unlocking the Brilliance in Yourself, Your Colleagues and Your Organization (Sourcebooks, Inc., $15.99) first published in 2007 Alan Gregerman, Ph.D., a Maryland consultant, shares his ideas on the subject. Last year a softcover edition of the book was published.
The author believes there is genius "hidden within all of us." Furthermore he is convinced that the genius can be leveraged to "transform any company or organization in order to deliver compelling customer value." The idea is that people around us are capable of contributing fresh ideas and perspectives that benefit the way we do things. The secret is to look at the ourselves and others in a different way from what we are used to; and to discover genius all we need is the "right insight and the right circumstances," according to the author.
In the chapter on finding brilliance within ourselves he starts out by recommending that readers figure out what they are passionate about. He uses singing as a way to illustrate his point because singing fascinates him; his suggestion is for readers to "Find the Song in You." The essence of his recommendation is to identify the concept that inspires you to make a difference and believe that you can make a compelling difference. The road to making a difference, according to  Gregerman, is paved with curiosity. He suggests asking questions, finding new ideas, talking to strangers whose ideas appeal to you, getting involved in organizations that are making a difference in your community, developing relationships with new people, and mentoring others.
The 250-page book is divided into three parts, The Context, Ten Journeys and Building a New Model of Success, and 17 chapters. Gregerman is the founder, president and chief innovation officer of Venture Works Inc., a Washington, D.C.-based consulting firm that seeks to help leading companies unlock compelling value for the customers they serve. According to his bio, his clients include Marriott, Lockheed Martin, Discovery Communications and Verizon. A geographer by training, he is also the author of Lessons from the Sandbox.
---
Click to buy Surrounded by Geniuses
---